Best CSGO Case Opening Sites [Tested]
We tested high number of CS:GO case opening sites on the market for you, and we'll list the best of the best!
Opening cases is one of the finest ways to find these skins, and there are numerous CSGO case opening sites. We tested and reviewed nearly all case opening sites one by one and present You our top picks here.
We paid attention to payment methods, reputation, user experiences and, of course, most importantly, their security and legitness of the sites. Please keep in mind that every site we mentioned on our list today uses a Provably Fair system which is (in our opinion a MUST today for a gambling site that does not have an official reputable liscence). Let's get started then!
DatDrop
FIrst is DatDrop, which we think is absolutely legit and reliable. We do not doubt their legitness as they have been on the market since 2016 and continue their transactions with the Provably Fair system.

The site gets a lot of traffic and most of the users visit it for the second time. This proves how reputable and popular the site is. Additionally, the website has Cloudflare DDoS protection and a working padlock (SSL), which ensures that all communications between the server and your device are protected.
Datdrop operates entirely in coins equal to dollars. Which we think is a very important and useful option. In addition, there are many payment and withdrawal methods.
The website's simple and user-friendly interface makes it so comfortable. We could complete the registration procedure with only a few click which is highly accessible. Datdrop also supports up to 11 languages ​​at the time of writing this review, making the user interface more understandable for a larger user base.
Finally, unfortunately, we were not satisfied with the support of Datdrop. They do not work with live chat or ticket system. You can only contact by email. In our opinion, this is quite a negative feature.
As a result, for a CSGO case opening site, Datdrop meets all criteria except support. Definitely preferable if not the best.
If you want to benefit from the code we provide for Datdrop, you can use "DATTGG" to get a nice exclusive bonus.
Hellcase
As the oldest CSGO case opening sites, we have thoroughly examined and tested Hellcase for you, and we are ready to share the results with you. Hellcase has over a million daily visits and has been operating since 2016. As a result, it would not be incorrect to state that it is an entirely safe and legit CS:GO case site.
We wanted to give Hellcase a try, which is very popular in the industry and among users. First of all, we read other user evaluations and discovered that many people had a favorable experience. Then, we opened cases on Hellcase and acquired cosmetic items. After than that, when we were 100% certain that Hellcase is a trustworthy platform. So, what are our overall thoughts?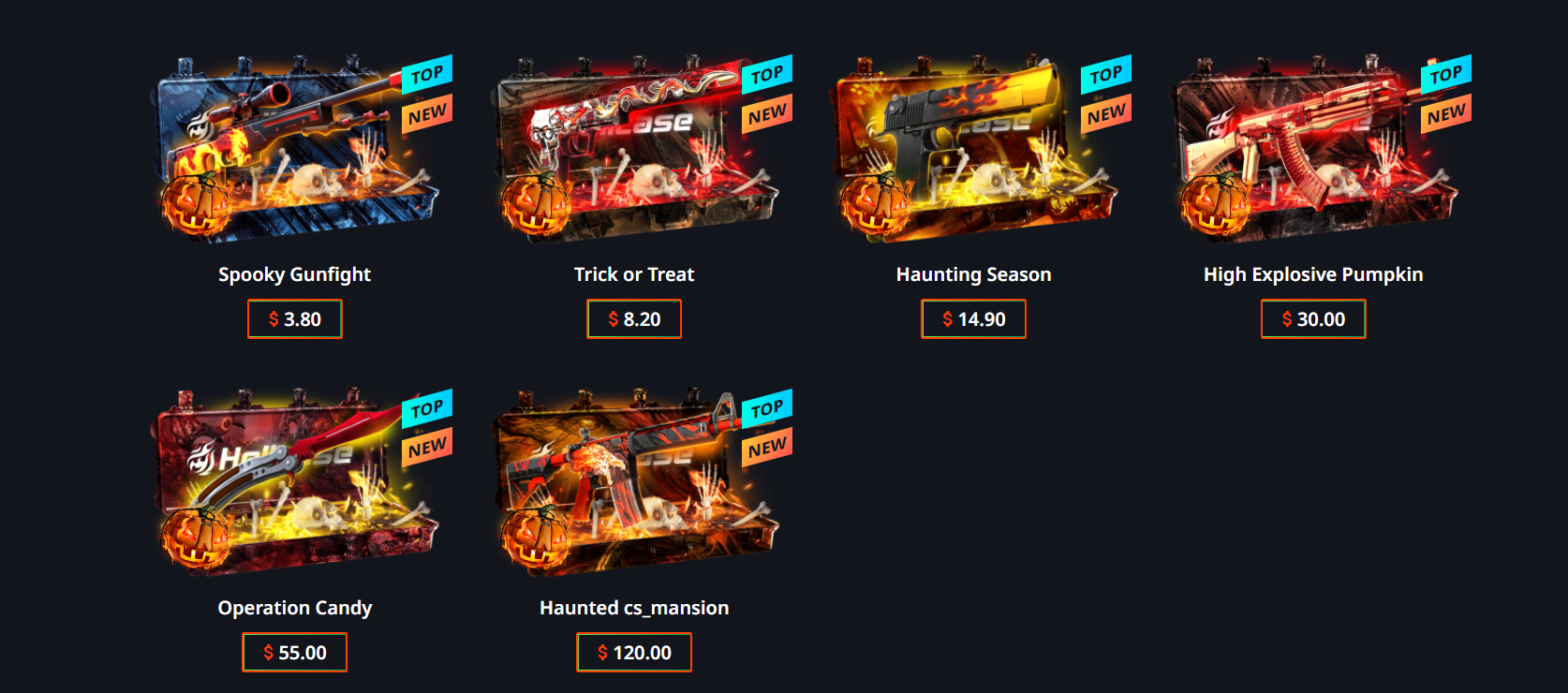 In our opinion, Hellcase featured intriguing features. For example, if we didn't like the skin we dropped, we could use it to open new cases because Hellcase allows us to trade skins for money. So you can use your skins as currency, which we think is a perfect feature. 
Furthermore, we thought the Hellcase's interface was well-designed, and all transactions could be completed fast and effortlessly. The trading bot responded quickly when we requested the skin you dropped.
Also, Hellcase's payment methods were highly numerous, so we had no difficulty making payments. Because it is SSL secured, we had no doubts about making the money.
Finally, we put customer service to the test. Hellcase is more typical in this way, employing a ticketing system. As a result, it lacks the Live Chat feature. Although this is an outdated solution, when we submitted a ticket and attempted to contact them, we received a response within 2 hours. Especially, when compared with CSGOCASES, another case opening site on the market, Hellcase definitely makes a difference.

If you want to benefit from the code we provide for Hellcase, you can use "TGGCASE".
CSGO.net
CSGO.net was the third platform we reviewed in our search for the best CSGO case opening site. First and foremost, we can state decidedly that CSGO.net is completely safe and legit. You can open cases with peace of mind.
CSGONet provides numerous security features, including DDoS protection and SSL. It is also one of the extremely popular case-opening websites. If you decide to use this website, you don't need to be concerned about its security.
According to our experience, CSGO.net provides its players with numerous alternatives such as case openings, case battles, or skin contracts. Furthermore, CSGO.net sells a variety of cases at various costs. So, you can find cases at affordable prices.

In terms of pricing, we'd like to bring up the CSGO.net's payment options. As a result, CSGONet provides its users with over 200 deposit choices. In our opinion, their diversity is a huge benefit. But from our own experience, we've learned that CSGO skins are the only way to get your money back.
In addition, there were other aspects of CSGO.net that we disliked. It was really inconvenient not to be able to view the skin quality, especially while opening the case. Furthermore, we found that the cheapest skins invariably dropped out of the cases we opened. Perhaps we were unlucky, but not being able to drop any rare skins was very disappointing.
Furthermore, the test spin option, which may be found on many case-opening websites, is not present on CSGO.net. We thought this was a problem because anyone who wants to get into an expensive case will need to be able to do this.
Finally, we put customer service to the test. CSGO.net has a Live Chat feature, but it is always busy somehow. We had trouble contacting customer support, so CSGO.net's customer service didn't make us happy.
CSGO.net doesn't really have a bonus or promo code.

Daddyskins
Daddyskins has over 1 million users and has been on the market for so long. In other words, it is a very trustworthy and legal CSGO case opening site. In our experience, Daddyskins provides numerous ways to obtain CSGO skins, one of them is via opening cases.
When we looked at the prices of custom cases, we noticed that they ranged from a few cents to hundreds of dollars. While more valuable cases, like premium cases, were more expensive, less expensive ones were also available. Naturally, people are who looking to purchase rare skins will prefer more expensive cases.
While the fact that Daddyskins offers official Valve CSGO cases and is legal is a plus, we need more reasons to use this website. In our experience, we realized that Daddyskins does not provide a LiveChat option. We think that this is a minus feature. If we had an issue about our payment or else, we would only attempt to resolve it by e-mail, which is extremely slow. So Daddyskins fails in support.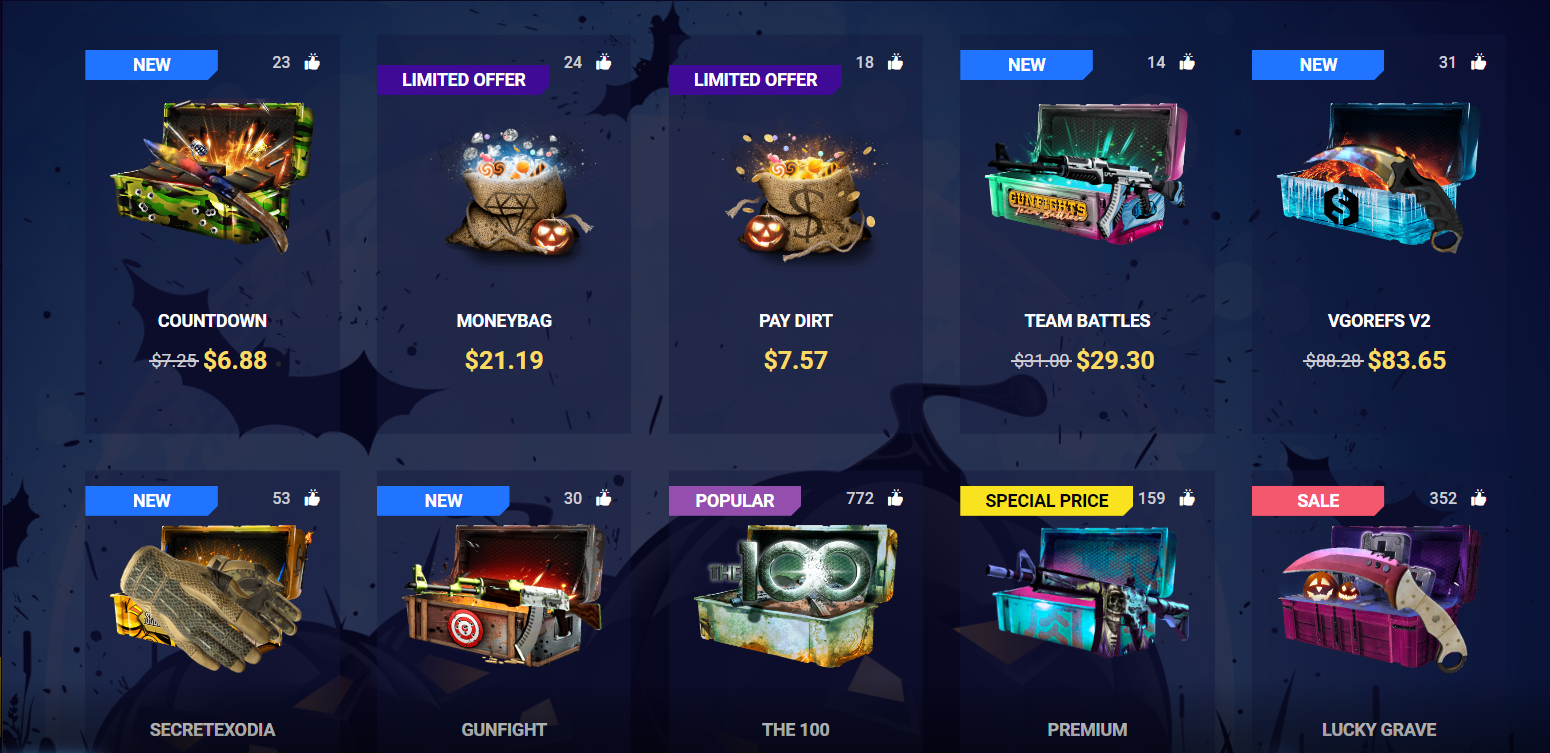 Fortunately, Daddyskins has a highly user-friendly interface, so we had no issues during or after the case opening. In our experience, Daddyskins gives its members the opportunity to earn free bonuses when depositing using promo codes. Also, when we reviewed other users' experiences, we found nearly no negative remarks, which was quite reassuring. Overall, Daddyskins is a decent option if you don't care about customer service and are looking for legit case opening sites.
If you want to benefit from the code we provide for Daddyskins, you can use "THE_GAMING".
Skinclub
Skinclub is another useful and solid CS:GO case skin marketplace. Before going deeper, we would like to indicate that we are confident that this website is legal. So you don't have to be concerned about its dependability when opening your own cases at Skinclub.
Skinclub allows you to open cases every day, but there are some restrictions. Our experience has shown that the higher your level, the more cases you can open. To level up, you must collect XP. For example, you must reach level 20 to open three cases.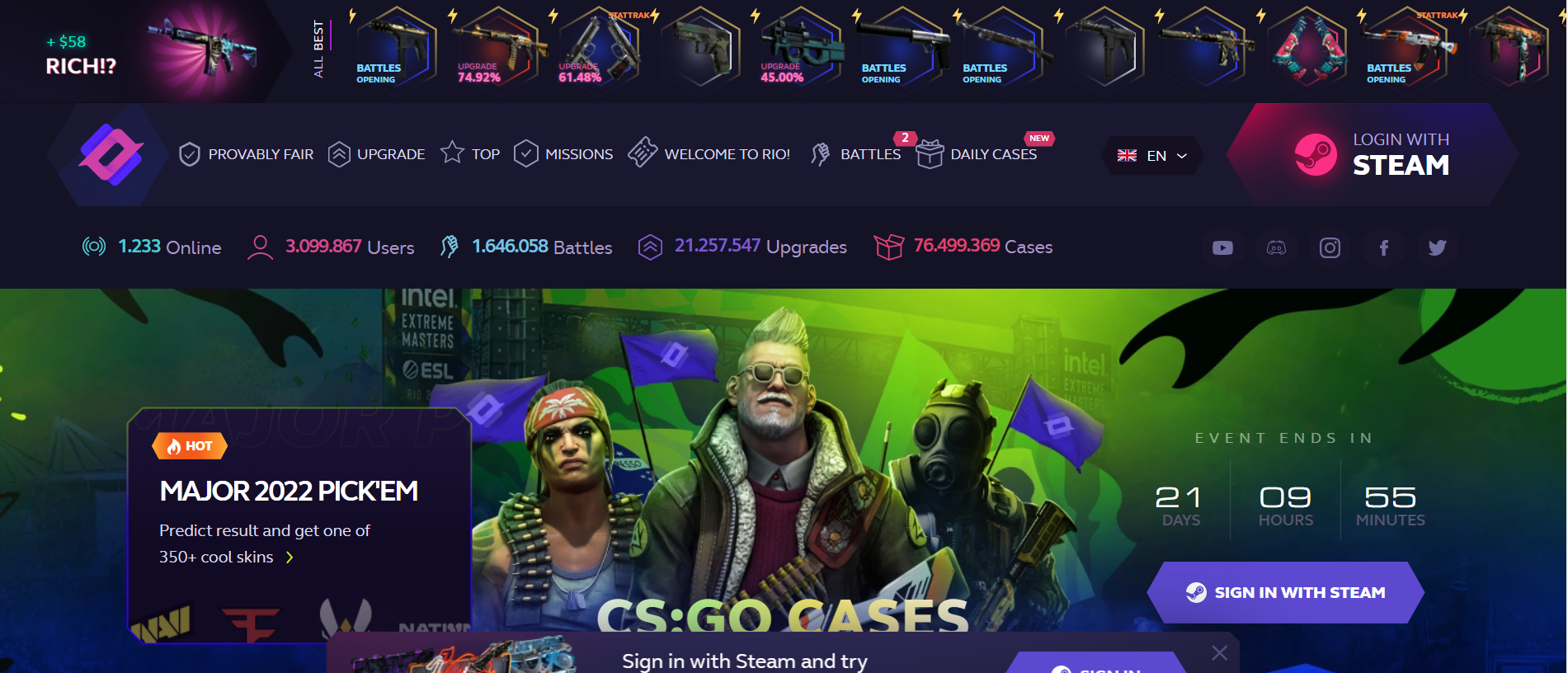 In our opinion, the number of cases was considerable, and it was a website of choice for desirable skins. In addition, their prices were comparable considering their competitors. Furthermore, what set this website apart from its competitors was its incredibly user-friendly UI, which was fairly unique and extremely simple to use.

If we must remark on Skinclub customer service, our experience has shown that Live Chat did not give what we needed. However, Live Chat and e-mail is not the only way to contact Skinclub; their website also has a phone number. This is a fairly offer a lot from our perspective because most gambling sites do not provide this option.
SkinClub doesn't really have a bonus or promo code.
We have presented five CSGO case opening sites for you in this article. We created case openings in each of them while reviewing them. As a result, we were able to look into these websites from every viewpoint. Our evaluation covered reputation, pricing, customer service, and other factors. We hope this guide assisted you in deciding which case opening site to use. See you in other articles, goodbye!
For similar articles, check our guide on the best Runescape case opening sites. Or if you prefer Dota 2, we have articles on the best Dota 2 jackpot, coinflip, and case battle sites, which you should check out.