Many people are now increasingly interested in starting servers. It's fun to play on a private server with friends or to host a large server and invite people from all over the world. We may accomplish this by using a server hosting service. So, which server hosting provider is the best?
We chose to test different server hosting services because we were curious about this subject. We shared our Bisect Hosting experience with you in this blog. Here's a rundown of its legality, pricing, and our experience. Without further ado, let's start then!
User Experience and Ease of Setup (4/5)
Bisect Hosting is one of the good hosting companies that you can set up servers for many games, mainly for Minecraft. Based on our research and experience, we believe Bisect Hosting, which is operated by Venture Node LLC, is totally legit and reliable.

According to our testing and experience, it has even outperformed its competition in this area. In terms of server optimization, Bisect Hosting met all our expectations and provided us with a unique experience. You can manage and update your server's chat, console, players, plugins and more using the Bisect Hosting services.

However, we noticed that Bisect Hosting is currently lacking in game diversity. It only provides hosting services for 20 games in total, and it doesn't support titles such as Satisfactory, Left 4 Dead, Garry's Mod, Factorio, CryoFall, Blackwake, Beasts of Bermuda, Barotrauma, Avorion, and Atlas. Nonetheless, you can optimize games down to the smallest detail. For example, servers have extra features like site hosting and a Discord Bot.
Bisect Hosting Control Panel
We purchased a Minecraft server to see the amount of settings we can access on the control panel at Bisect Hosting. In our experience, we were able to create servers very easily and there were many settings we could optimize. Apart from this, we also measured the server quality by installing many modpacks. We did not encounter any problems and we were able to use our server as we wanted, with many settings.

As with every hosting service, servers have a maximum player capacity. If you want high capacity servers, you have to pay more money. Otherwise, the hosting service provider's performance will be inadequate. In Bisect Hosting, the number of people on the server varies from game to game, but there is a capacity up to high numbers.
Furthermore, we were presented with two package options to pick from Premium and Budget. In general, the Budget package contains fewer features, and extras such as automatic modepack updates and customizable player slots require additional costs.
The Budget plan, in our opinion, featured too few game server hosting location possibilities.
We selected our location and saw choices for customizing the server RAM. 1GB was ideal for us because we were a small group.
We selected the desired bundle and were led to the payment screen. Better customer service required an extra $3.99. It does not seem good in our opinion for a Minecraft hosting business to charge extra money for improved customer service.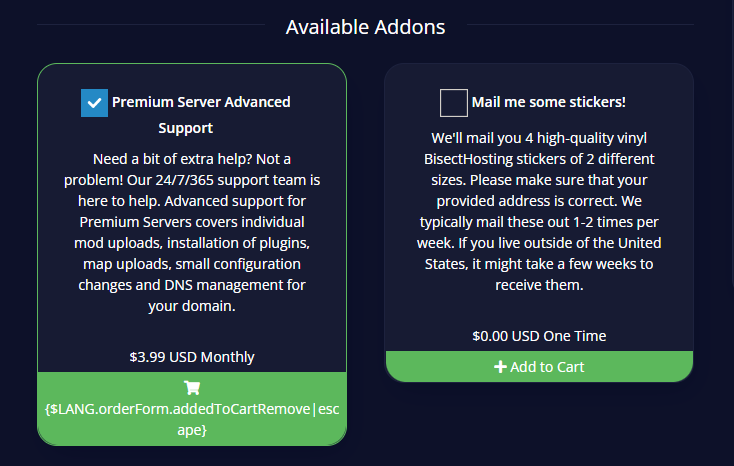 We added what we needed to this page before moving on to the payment section. In general, we encountered no challenges during our visit. Still, one of the things that disturbed us was the lack of services. Furthermore, we believe that the additional prices paid for several services were unnecessary.
Bisect Hosting Pricing (3 /5)
We previously said that we had purchased a Minecraft server hosting provider in order to test Bisect. We went with the Premium package and set up a server for ten users.
We also added the premium server advanced support service and 1 GB of RAM. All of this came to a total of $11.98. In our opinion, this price is average compared to any competitive Minecraft hosting service provider. Bisect Hosting unfortunately does not have a good pricing like Ploxhost, another hosting platform.
PREMIUM PACKAGE
| | | |
| --- | --- | --- |
| RAM (GB) | Price | Player Slots |
| 1 | $7.99 | Unlimited |
| 2 | $9.98 | Unlimited |
| 5 | $24.95 | Unlimited |
| 10 | $49.90 | Unlimited |
| 20 | $99.80 | Unlimited |
| 48 | $239.52 | Unlimited |
BUDGET PACKAGE
| | | |
| --- | --- | --- |
| RAM (MB) | Price | Player Slots |
| 1 | $2.99 | Up to 12 |
| 2 | $5.98 | Up to 24 |
| 5 | $14.95 | Up to 60 |
| 10 | $29.90 | Up to 96 |
| 20 | $59.80 | Up to 192 |
| 48 | $143.52 | Up to 192 |
Payment Options
We saw several payment alternatives while purchasing Bisect Hosting game servers. This hosting service accepts credit cards, Paysafecard, PayPal, and even crypto.

Different payment method alternatives are a feature that improves reliability in Bisect Hosting.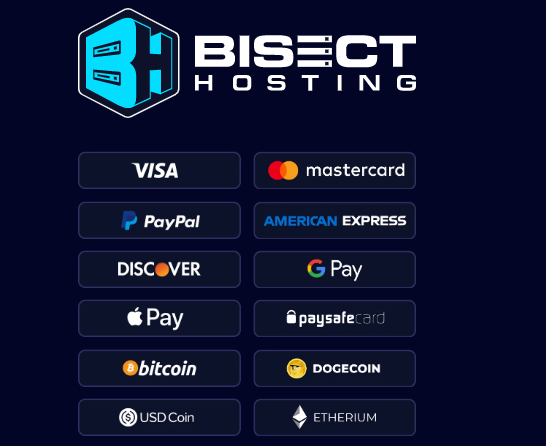 Bisect Hosting Support (4/5)
According to our experience, the server support provided by the Biscet Hosting provider was relevant, and we were able to get answers to our questions around the clock.

Apart from being premium which we paid, Bisect Hosting's support was very fast and helpful. They solved our problems with the utmost care and assisted us.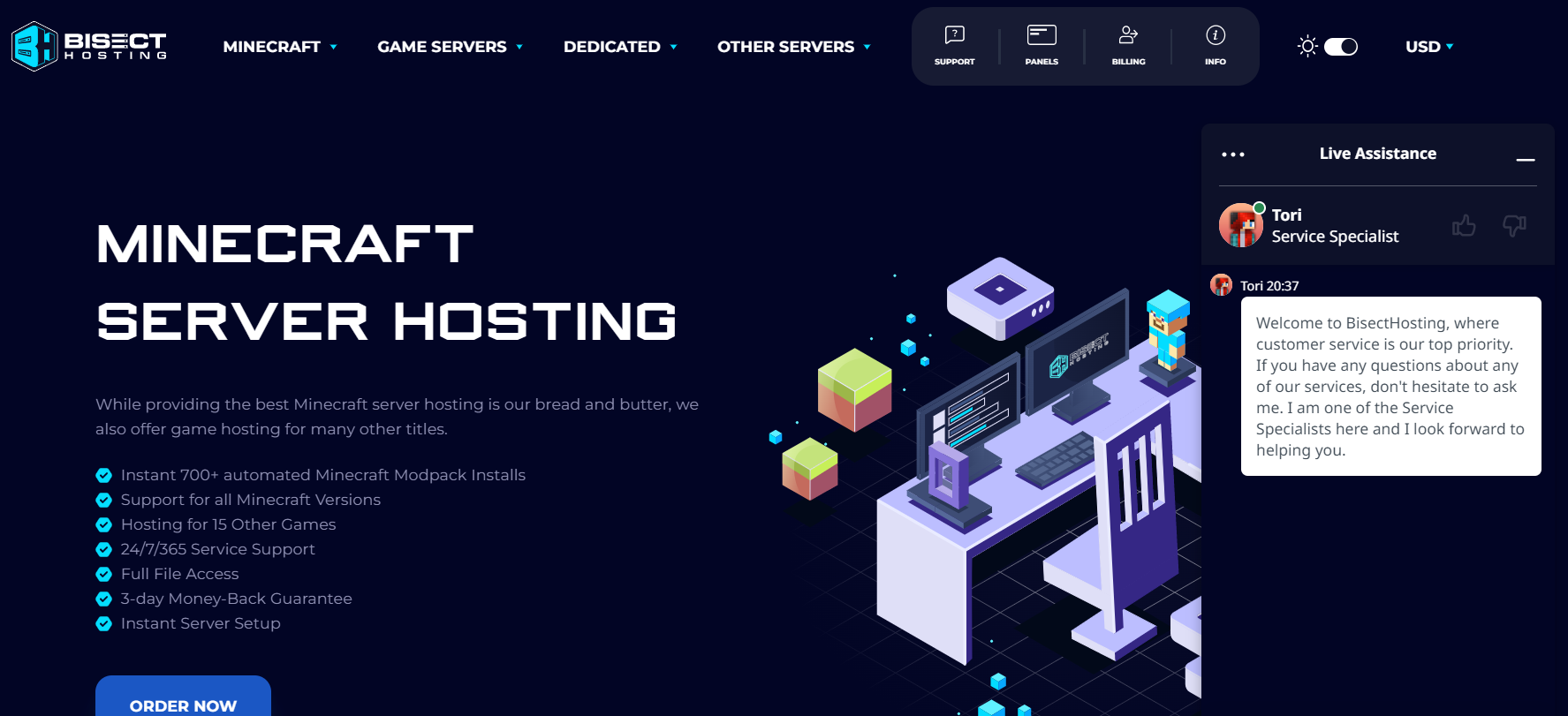 Bisect Hosting Features and Performance (4/5)
Based on our Minecraft server setup experience, Biscet Hosting has a multitude of features. We mentioned that there are two packages available: Budget and Premium. During this test, we used the Premium Minecraft server service.
So our review focuses on the features of premium services. Furthermore, the Budget package includes fewer of the features that we have discussed.

Another feature that drew our attention was the ease of use it provided for the modpack, which is insanely difficult to install. We chose the premium package, so installing the modpack was quick and easy.

Game Server Performance
In our experience, when we tested the site we chose the 1 GB RAM and we had no problem with the speed of our server but we were not playing with a lot of people. It was quite good and no players were lagged. However, if you wanna upgrade or play with more people, you should choose a bigger RAM package.
In addition, the modepacks and settings you add to your server will affect your RAM. So if you're going to experience a high quality and crowded Minecraft (or any other game), we recommend purchasing larger RAMs.
Bisect Hosting Reputation for other Gamers (4/5)
We've taken a superficial look at Bisect Hosting's reputation among users and put it together with our own experience. As a result, almost all customer reviews are positive! Many people say they have had similar experiences and praise Bisect Hosting for its convenience. In our opinion, we think Bisect Hosting is quite useful and smooth. The fact that it is both reliable and offers many server optimization settings is a guarantee that you will not regret its services.
However, it takes a step back as it is more expensive than sites like Citadel Servers in terms of pricing. We would also like to see more game variety - such as the addition of Atlas - but Bisect Hosting was lacking in this.
All in all, Bisect Hosting is a reliable hosting service that is both reliable and useful enough to satisfy you. Although they have some shortcomings, we think that they are a hosting service that you will not regret if you buy it. That's all for now, take care!
This article contains affiliate links which are marked
with
. If you grab anything we mention using our referral links, we may get a small commission. However, there's no extra cost to you. If you'd like to learn more, check out our
affiliate disclosure page
.