You might want to play games with your buddies on a dedicated server. You may even want to set up larger game servers where players from all over the world can join. So, there are hundreds of websites for this on the internet. In this evaluation, we decided to put Citadel Servers' services to the test for you.
We tested this service to get answers to issues such as: whether is the Citadel legal; is simple to use; is cost reasonable; other users' experiences have been. This article is a full overview of our experience with Citadel Services. Then, let's get into it!
User Experience and Ease of Setup (3/5)
First and foremost, our research and experience indicate that Citadel is fully legal. We have tested Citadel Servers down to the smallest detail and we are ready to convey our most sincere experiences for you. Then if you are ready, let's take a look at what kind of services Citadel Servers offers and how preferable it is.

Although Citadel Servers offers many game alternatives, we preferred Minecraft to set up the game server. We chose Minecraft because it is the most demanded game for opening a server. The installation process was quite simple. Following a short purchase, we could set up a game server easily. Although the server opening details for all games differ, generally the purchasing system is the same.

However, it is important to note that the installation step will differ for each game. In reality, compared to other games, Minecraft has a simpler setup. If you want to set up a server for Arma 3, for example, you must go through more complicated steps.
Furthermore, many websites make modepack installation problematic. Citadel Servers, on the other hand, provide convenience and assistance.
Citadel Servers Control Panel
In our experience, the phases of setting up servers on Citadel servers were simple. First, we click on 'Game Servers'. Then we stumbled across a gaming list where we had many options, including CS:GO, Squad, Satisfactory, Scum, CryoFall, Avorion, Astroneer, Beasts of Bermuda, Barotrauma, Empyrion Galactic Survival, Blackwake, Atlas, and many more games. We chose the Minecraft we wanted to try from this list. Furthermore, if the game you want is not shown on the screen, you can find it by searching.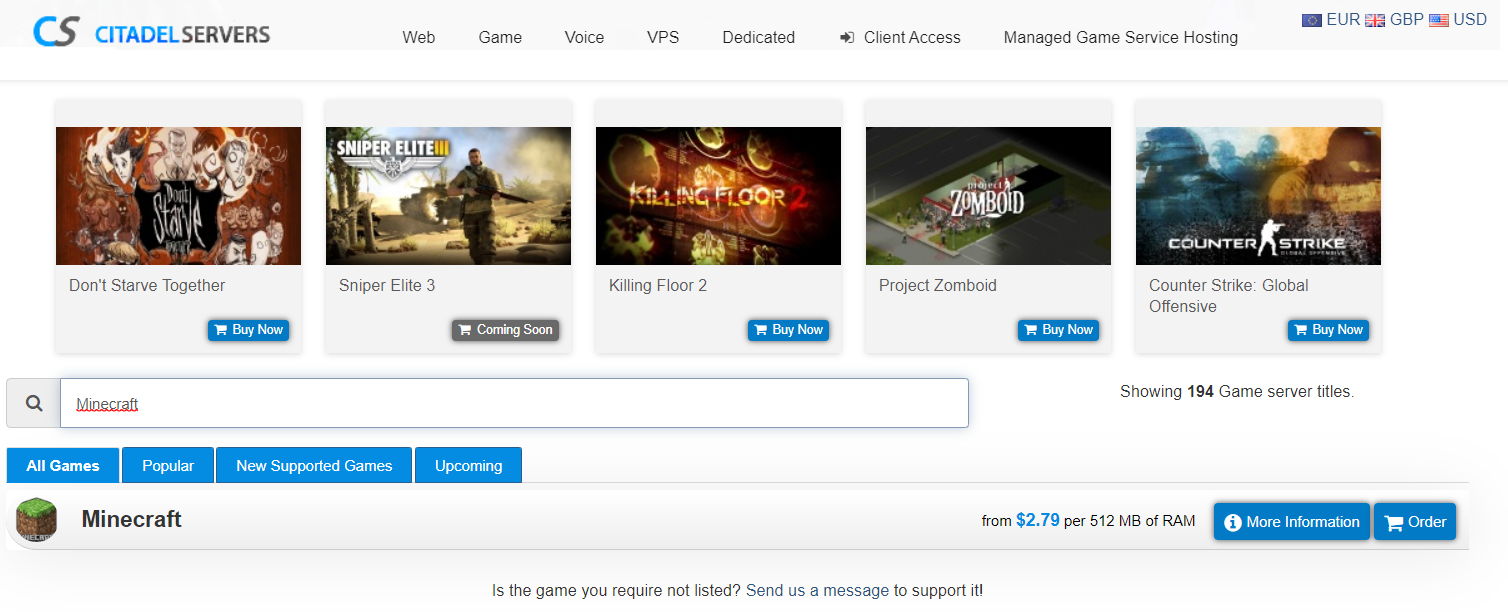 Then we clicked the "order now" button. From the screen that opened, we selected the RAM size and customized services we wanted.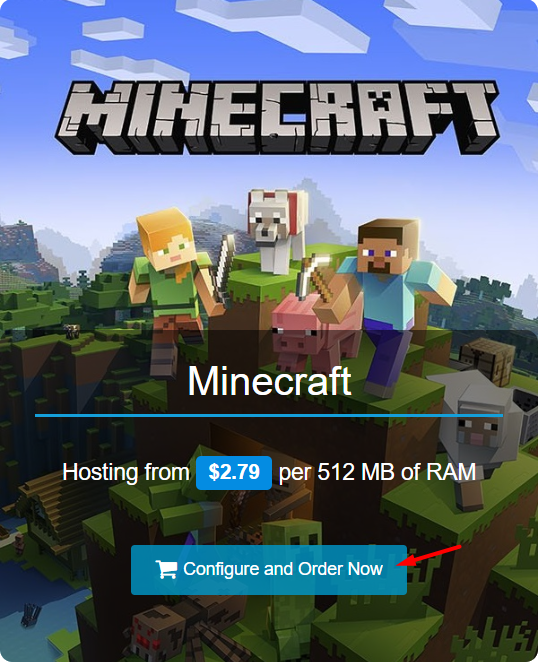 Then we decided on a server and proceeded. Finally, we arrived at the payment screen. From here, we configure all of our server information. We even decided on a name for our server. Then we clicked "checkout" and finished the transaction by providing our payment information.
Citadel Servers Pricing (4/5)
We attempted to set up the Minecraft server for you. Because we conducted this test with a small group of people, it was sufficient to purchase 512 MB of RAM. This too costs $5.64. So, if you wish to play with 2-3 other players, you can select the 512 MB RAM option.
| | | |
| --- | --- | --- |
| RAM (MB) | Price | Setup Fee |
| 512 | $2.82 | $2.82 |
| 1024 | $5.63 | $2.82 |
| 2048 | $9.99 | Free |
| 4096 | $14.99 | Free |
| 8192 | $39.99 | Free |
| 16384 | $79.99 | Free |
If you want to put up a more packed server, however, this choice will result in very poor server performance. As a result, depending on the size of your server, you may require 8192, or even 16384 MB of RAM.
So you can attract more users to your server. Of course, if this is your option, you will have to spend more. For instance, 512 MB of RAM costs $5.64 a month, whereas 8192 MB of RAM costs $39.99 a month.
In our opinion, the "Process Priority" option on Citadel Servers, on the other hand, is vexing. Because this choice indicates that you must pay more if you want speedier service, in our experience, there is no reason to pay more for faster service.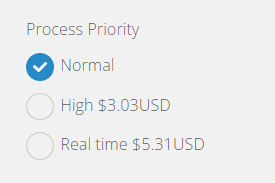 As a result, Citadel Servers has lower prices (cheapest Minecraft hosting services) than other hosting services like Pingperfect. Also, prices will be different depending on the size of the service the customer chooses.
Payment Options
Citadel Servers accepts a number of payment methods. Credit card payments are accepted. If you want, you can pay using Bitcoin or PayPal.

Citadel Servers Support (2/5)
In our opinion, setting up a server is a difficult task. Even a mistake made while installing the server may cause other people to not be able to enter your server or cause the server totally crashes. As a result, the money you pay may be squandered.
That is why the customer support components of such hosting solutions are critical. We didn't want even worse customer service, so we checked for you Citadel Server's customer support.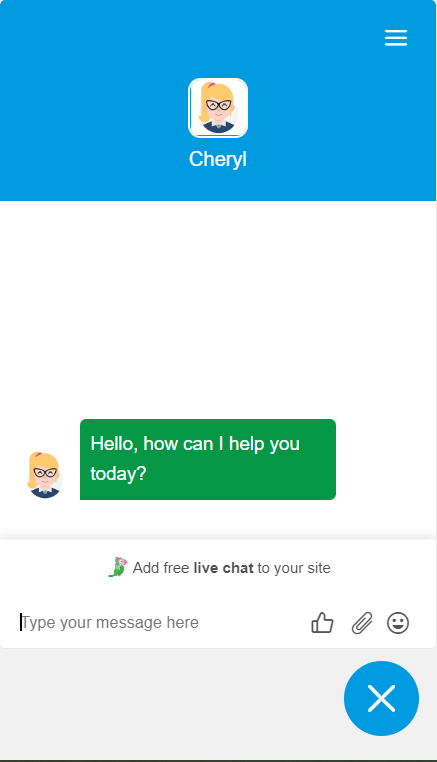 In total, there are two modes of communication available: e-mail and live chat. Simply click on the speech bubble at the bottom right to start a live chat and type a message. The lack of a voice service may be seen as a negative. However, in our experience, the live chat provides a quick response.

Citadel Servers Features and Performance (3/5)
In our experience, many web hosting companies provide additional server services. Citadel Servers also provide three distinct add-ons when purchasing. You must pay additional fees for each of these add-ons.
First and foremost, the Premium Addons are a $19.9 package that allows you to set up your server however you see fit. Furthermore, when you acquire this add-on, you will be able to obtain training and full support on how to configure it.
The Migration Service is the second add-on. Those who carry their PCs and those who want to secure their server data can both benefit from this service. This addon costs $9.99.
The third add-on is a dedicated IP address. As a result of this package, you may now set up your dedicated server. It is placed on your own private IP address, and it is possible to determine which ports will increase the popularity of your dedicated server. You must spend $2.99 to obtain it.

Game Server Performance
Game Server performance is influenced by three major things. RAM is one of these components. As a result, the more RAM, the larger the server. The processor on which you install the server is the second most significant factor. The higher the grade of the server, the more advanced the CPU. The hard disk is, of course, the third critical component.
Taking these things into account, we created and tested a server on Citadel Servers. During our test, we discovered that Citadel Servers employ Xeon processors. Because the Xenon processor is a very good processor, you should have no problems with its processors in our experience.

We indicated that we were putting it to the test by launching a Minecraft server. We chose the lowest Xenon processor because we were testing with a small group of individuals, and we had no problems with installation or logging into the server, according to our experience. As a result, if you have a small group (2–3), the smallest processor will serve.
For a more packed hosting server, however, you should choose more RAM, a multi-core processor, and SSD storage. In our experience, as long as you pay attention to these components, you should be able to run Citadel Servers without a problem.
Hosting Locations
The location you choose is critical for your server to function properly. You must select the location of the country in which you will play with gamers from. Otherwise, you will face delays.
Citadel Servers have a lot of different location options, as we discovered. Free locations are now available in Canada, France, Germany, Poland, Finland, the Netherlands, and Italy. You must pay an extra fee for each remaining site, up to a maximum of $3.03.
Though, to share our experience, we have listed the Citadel Servers location alternatives below.
Citadel Servers Location Options

Citadel Servers Reputation for other Gamers (3/5)
At the time of writing, we have a small Minecraft server running on Citadel Servers that is running fine. Furthermore, in our experience, we were able to easily obtain solutions to our questions through live assistance. However, we were also intrigued by other users' experiences with Citadel Servers.
In addition to many positive ratings, we came across some negative comments. In fact, some grumbled about the previous version of the IP required to open an ARK server in some remarks, while others worried about their terrible experiences when opening a high-capacity server. But customer service and the good things that users who opened small-capacity servers said about them were often mentioned.
Finally, in our opinion, we believe that the Citadel Server's user experience is appropriate for people looking to set up a lower-capacity server. Because we had a good buying and technical support experience, we think it's good for your 10–20 person servers with your friends.
It is also one of the legit web hosting providers. So you can register safely without having to worry about the scamming server company. Because of this, we think that the quality of your Citadel experience will depend on what you want.

This article contains affiliate links which are marked
with
. If you grab anything we mention using our referral links, we may get a small commission. However, there's no extra cost to you. If you'd like to learn more, check out our
affiliate disclosure page
.