GameServers is a large game server hosting company, that provides hosting services for a variety of different needs. Their services include dedicated game server hosting as well as voice server hosting for TeamSpeak and Mumble servers. At first impression, their website and company seem highly professional and reliable... but is it really legit and one of the best server hosting providers?
Is GameServers Legit?
After doing some investigation, we found a number of reasons which indicate that GameServers is a legit and reliable server hosting provider.
Here are some of the major indicators:
GameServers has been running since 2004 (almost 20 years!)
GameServers is a registered company named "The Constant Company, LLC" located in New Jersey, United States
User Experience and Ease of Setup (4/5)
Setting up the Minecraft server was very easy and straightforward. It took less than a minute to choose the plan, get the IP and hop on the server to play.
Customizing it was a lot different, however, as they do not really allow you to do a lot of stuff with your Minecraft server files.
As you can see, GameServers provides a simple server configuration page. Here you have the ability to edit some of the most basic server data.
For example, you can edit the number of player slots, turn the whitelist on and off, etc.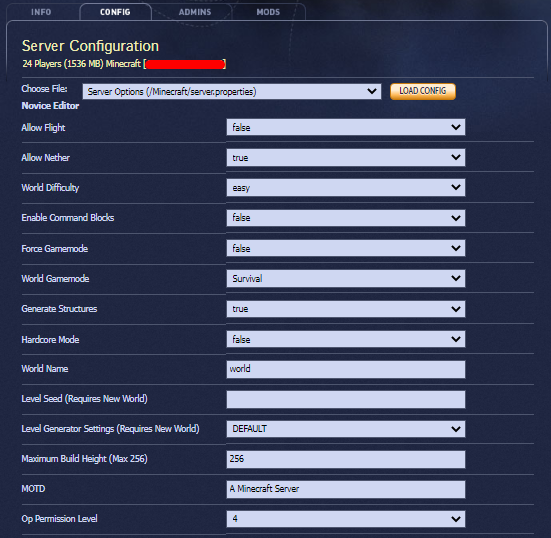 GameServers' Control Panel
The Control Panel of any game server host provider is very important. GameServer's control panel is no exception.
Their control panel is simple, easy to use, and, for the most part reliable. (I will explain shortly why it is only partly reliable!)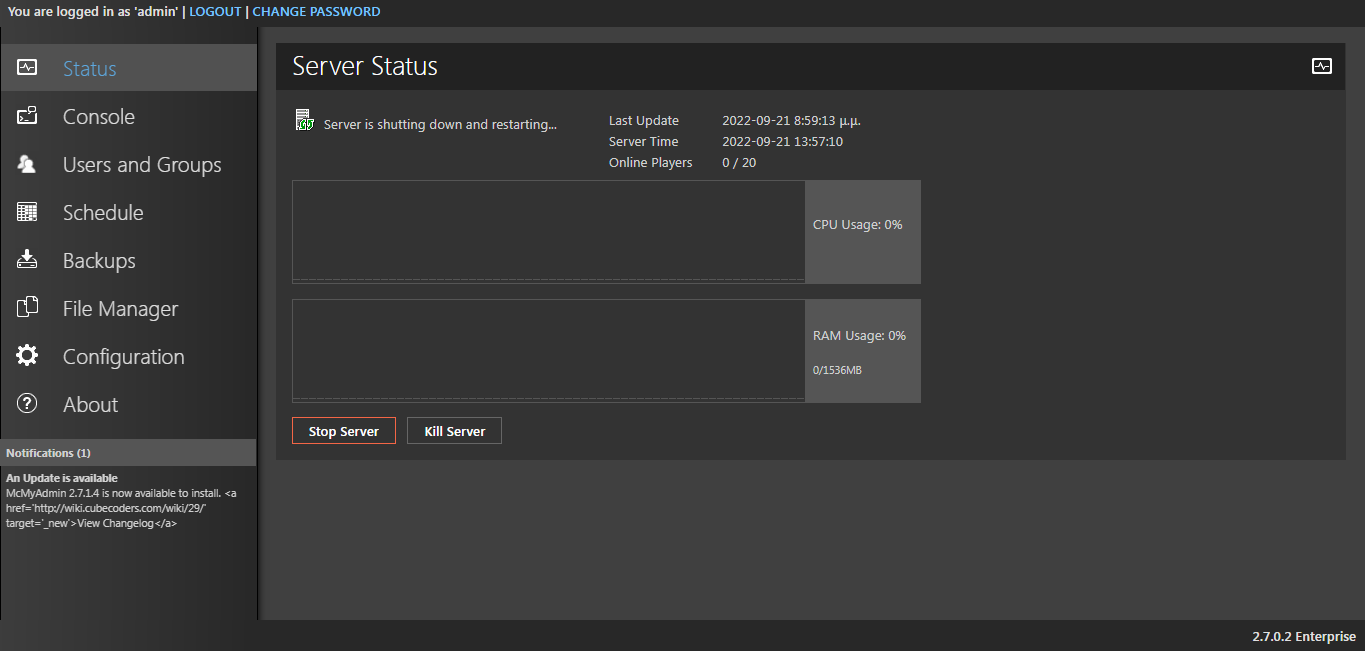 The only part I did not like about GameServers' Control Panel is that the plugin tab seems to be broken. I keep getting "Bukget query failed." the last couple of days and cannot browse the available plugins.
Even though issues like this may occur here and there with any server hosting company, I am slightly concerned with how long this one has not been resolved. Additionally, this would prevent a server that relies on plugins to function properly...
I feel like GameServers' could have done a better job with this one. This is why their Control Panel is only "for the most part reliable".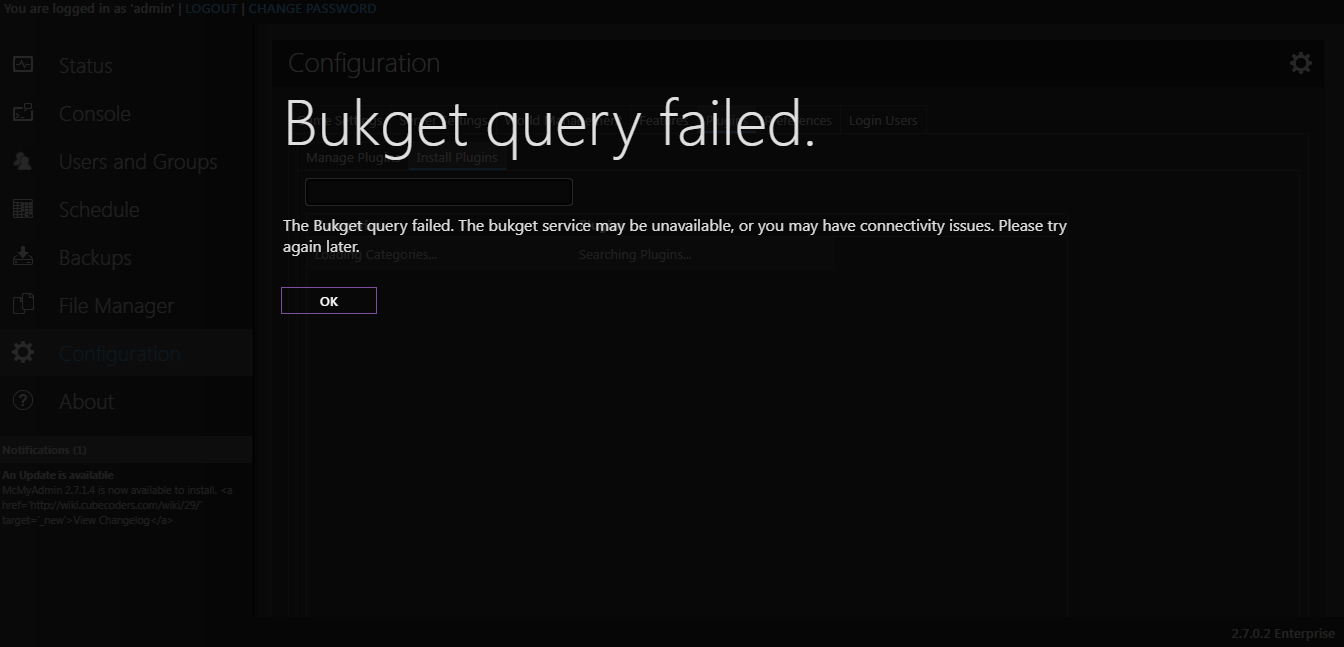 NOTE: Bukget is a 3rd party provider, it is a tool that helps with package management for Bukkit. Basically, this is not 100% GameServers' mistake but it should have been resolved by them.
GameServers' Pricing (4/5)
Overall, GameServers's pricing looks decent but does not include many cheaper options for customers looking for something more affordable.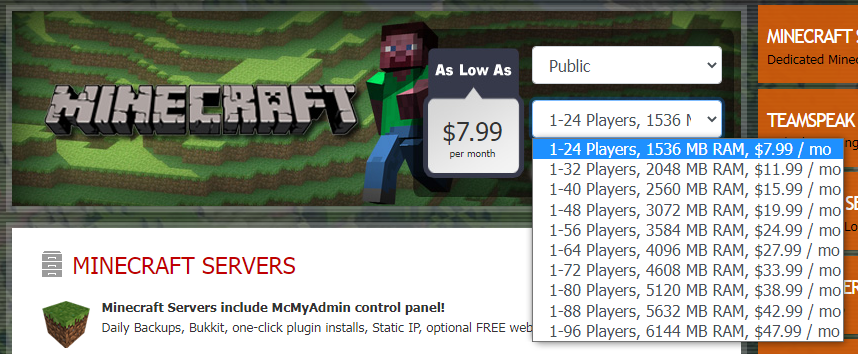 Their cheapest dedicated Minecraft server plan starts at 7.99USD with 1.5Gb of Ram. That price does not include the 24% VAT fee that gets calculated at the end of your purchase.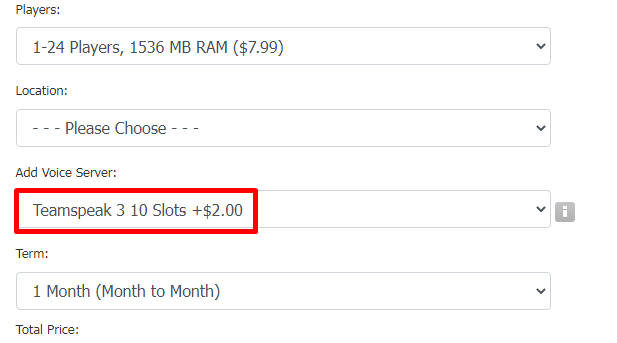 Moreover, they try to sell you a 2USD per month TeamSpeak Server as their order page's default settings include it automatically. Since I was not looking for a TeamSpeak Server I decided to remove it manually from my game server order.
Overall, I paid a little under 10USD for their most affordable Minecraft Server option. Not too cheap, but sometimes quality comes with a price! And you can expect to see similar prices for other games, such as Starbound, 7 Days To Die, Empyrion Galactic Survival, Farming Simulator, Rust, Stardew Valley, and ARMA.
GameServers' Payment Options

GameServers has multiple options customers can use to purchase their game server. They allow you to pay using Credit Card, PayPal and Personal Check which are all very widely used payment methods!
I ordered my Minecraft Server using PayPal and the whole process was smooth and done in a highly professional way.
GameServers' Support (5/5)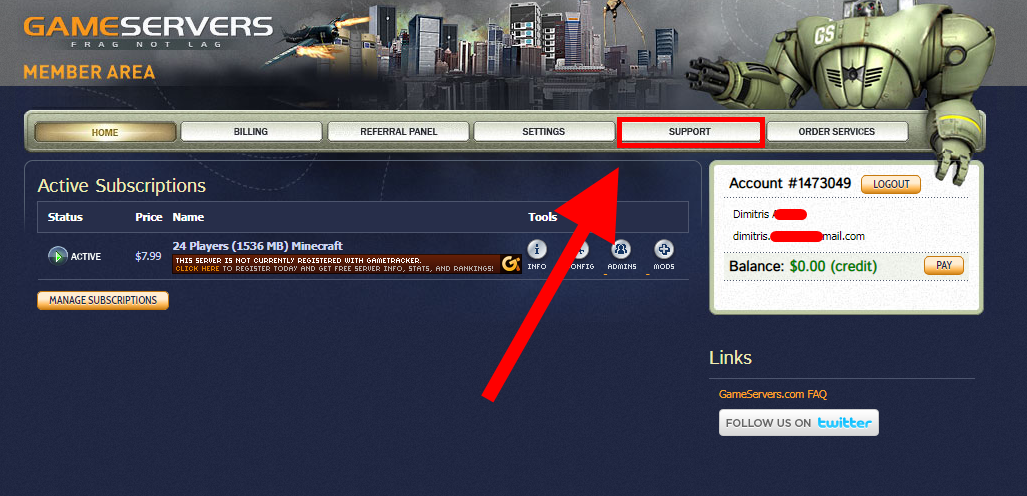 Like any major hosting provider, GameServers has a tech support team. They are there to help you when you have issues with your server host and are able to solve all your technical issues.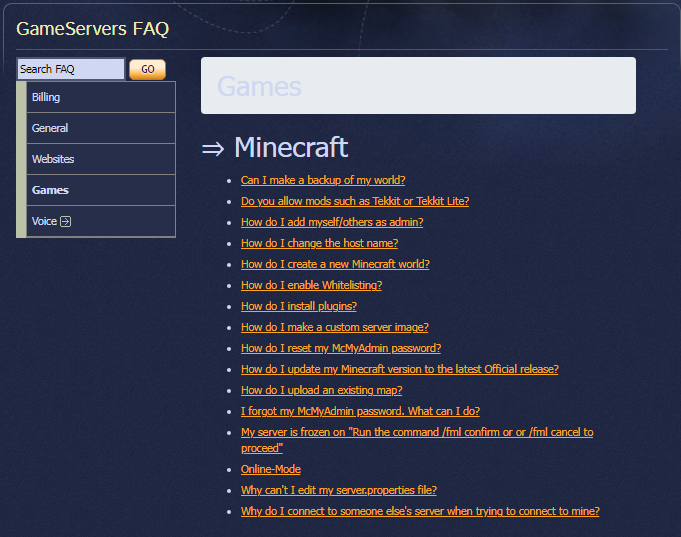 Something really interesting is that they already have a list of Frequently Asked Questions (F.A.Q.) to help customers solve their issues individually, without the need to contact their support.
After contacting their support team, it was clear that they are really helpful and their reply was to the point. GameServers' Support Team manage to fix my issue in just a couple of hours, which is high-quality support from their end.
GameServers' Features and Performance (4/5)
GameServers provides all the basic features someone would need to have for their dedicated servers such as mods and plugin support. They also provide FTP access and DDoS protection.
Minecraft Plugins & MODS
Gameservers provides all the desired plugins and Mods you may need for your Minecraft servers. Plugins and Mods can enhance a Minecraft world and make it more interesting to play in!
Being able to install them is essential and Gameservers has made that simple. In fact, installing them can be extremely easy and straightforward as it does not require more than a couple of seconds with their amazing user interface.
Free Demo Minecraft Servers!
GameServers also give you the option to test their servers for free before spending your money.
They provide free servers hosted all over the world that you can play on and decide if they are the right provider for you.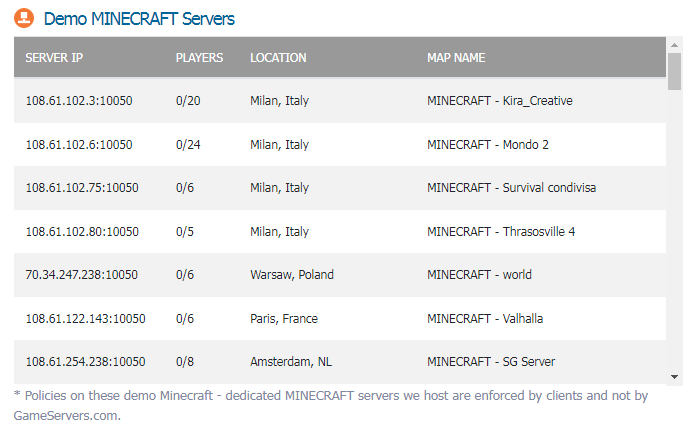 Personally, I tried one of their servers in Italy and had no issue with lag and the game server was great.
GameServers' Hosting Location

Something extremely important is that they provide a game server in almost every location you would want. This can be really useful and help with lag!
GameServers' Reputation Amongst Gamers (5/5)
After looking online for other reviews about GameServers' hosting services, it seems that gamers all over the internet agree that they are a good server hosting company.
On this one Reddit post, I found some asking "is gameservers.com legit?".

One user answered that they think so, while others seemed more satisfied with GameServers.
All in all, the main opinion was that GameServers is a great hosting company to use.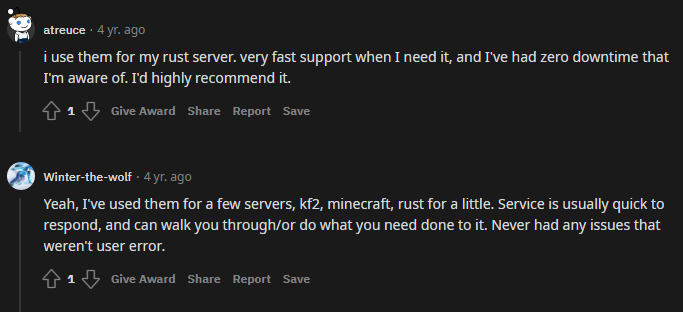 To be more specific, one user mentioned "i use them for my rust server. very fast support when I need it, and I've had zero downtime that I'm aware of. I'd highly recommend it."
Someone else commented on the host saying: "[...] Service is usually quick to respond, and can walk you through/or do what you need done to it. Never had any issues that weren't user error." If GameServers is not for you, you might want to learn more about Aternos, and Apex Hosting.
This article contains affiliate links which are marked
with
. If you grab anything we mention using our referral links, we may get a small commission. However, there's no extra cost to you. If you'd like to learn more, check out our
affiliate disclosure page
.