You want to set up a server, but you're not sure which hosting service you'd like to use. This is understandable because there are numerous factors to consider when selecting a server hosting service, such as a user-friendly interface, reasonable costs, and excellent customer support. Other crucial considerations include the storage unit and software.
We examined Pingperfect in all of these areas in this review. At Pingperfect, we even set up a server. As a result, we were able to thoroughly evaluate Pingperfect. All of our Pingperfect experiences may be found in our article. So let's start and take a look at all the details!
User Experience and Ease of Setup (4/5)
To find out whether PingPerfect is legit or not, we became their client first hand and tested their service. As a result of both our research and our own experience, we decided that PingPerfect's user experience is good, its overall services are completely legit and easy to install. We look forward to sharing our views with you.

The first part of our test was to look at the interface, but we weren't impressed with Pingperfect's. However, we cannot say that it is difficult to use. We might even say that ordering is fairly simple, given the number of markers.
We moved down to the 'game servers' section, where we could see a list of games (including Starbound Left 4 Dead, Atlas, 7 Days To Die, ARK Survival Evolved, ARMA, Avorion, Astroneer, and more), and observed that they cover a wide range of genres, including action, crafting, FPS, indie, and even simulation. In fact, because these games were organized by genre, we had no trouble finding what we were looking for.

As a small group, we decided to launch the Minecraft small server during this test. We chose Minecraft because it's the popular game with the most hosting requests. We got to the checkout page during the transaction by clicking on the icons that showed the prices for three different locations.

One of the things that made our experience better was that it included numerous services in a normal subscription, such as free web hosting and customer service. Usually, game hosting companies have a habit of charging additional fees for every service they provide, so Pingperfect made a good impression.
What's more, the server we installed operated flawlessly and offered dedicated servers if desired. In terms of the end product, our Pingperfect experience was positive in our opinion.
Pingperfect Control Panel
It is crucial that the control panel functions properly. That's why we decided to include it in our Pingperfect review. We have already shared our experience up to the point of payment. Following that, we will customize our server.
First and foremost, we have a changeable options area in which we can quickly select features and display additional charges. From our perspective, the ability to readily select them all on the same screen improved our experience.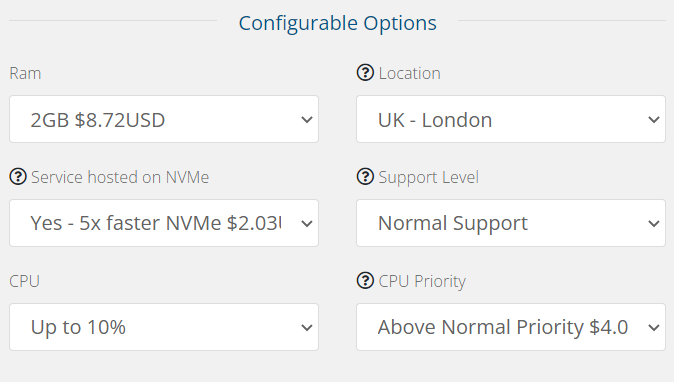 RAM capacity is significant because it is one of the primary components that keep your server running. If you wish to run a crowded server or install modpacks, you should raise your RAM. Otherwise, your server will crash, and will not function properly.
Because we were a small group when we ran this test, 2 GB was fine for us, and it functioned flawlessly. Furthermore, we had to pay additional expenses for improved customer service. While it was normal to pay extra fees for these services, Pingperfect was somewhat pricey.
We also selected the storage unit, which is a crucial aspect of our game server. NVMe and SSD storage systems are the best. It increases the speed and capacity of your server. These two storage devices are also used by Pingperfet in its hosting services.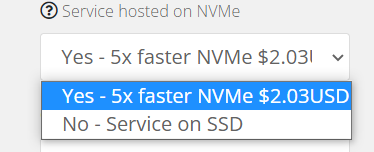 After we were done making changes, we went to the part where we paid and gave our game server name and RCON password.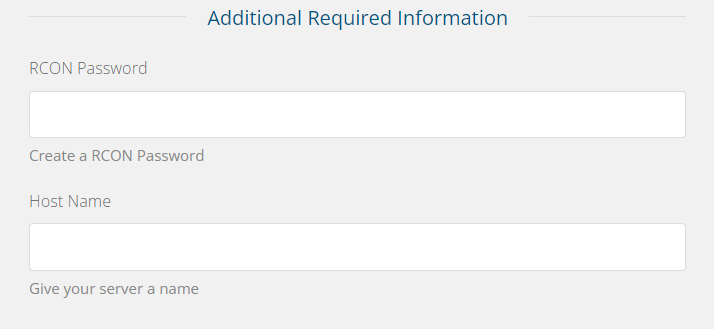 As a consequence, in our opinion and experience, the control panel featured a simple interface that met all of our requirements on a single page.
Pingperfect Pricing (4/5)
For the Pingperfect review, we set up a modest Minecraft game server. We chose 2 GB of RAM, and a premium customer support team while using this service (one time). The entire amount was $15.48. From our perspective, it is slightly higher than the average price among its competitors, but still very competitive with other hosting service providers (Aternos, Apex Hosting). But it is still cheaper than its competitor, Bisect Hosting.
| | | |
| --- | --- | --- |
| RAM (GB) | Price | Player Slots |
| 2 | $8.72 | Unlimited |
| 5 | $14.87 | Unlimited |
| 8 | $20.95 | Unlimited |
| 12 | $26.70 | Unlimited |
| 20 | $41.90 | Unlimited |
| 32 | $55.62 | Unlimited |
Payment Options

When writing the Pingperfect review, we were concerned about the range of payment methods. Fortunately, Pingperfect accepts a wide range of payment methods. It accepts credit cards, Paysafecard, PayPal, Bitcoin, and bank transfers.

Pingperfect Support (4/5)
We anticipate an amazing support team from our hosting provider. Dedicated servers, voice servers, game servers, and web hosting are all available. These are not easy tasks for everyone, and we may require assistance. So, Pingperfect support services for instant setup were evaluated.
We even enlisted the assistance of three separate assistants to improve the dependability of our test. Customer support was excellent in our experience, as they listened to our questions and provided clear answers. But when compared to Ploxhost, another hosting service, we think Pingperfect is a bit behind in this regard.
However, because we were running this test on a small Minecraft server, our job was not too challenging. The processes can be more difficult to follow for larger servers or servers for more difficult games like DayZ.
Pingperfect Features and Performance (4/5)
Pingperfect, in our opinion, has various features. For example, the instant server setup option simplified our experience. The customer-accessible restoration system and scheduler system were two other things that made our stay better.
We believe that SSD and NVMe storage should be preferred. High-capacity storage is especially important when setting up a high-capacity server. In this perspective, the hard disk is the most inadequate storage unit. SSD and NVMe, on the other hand, are excellent for storage and performance.
Other features of Pingperfect include an IP blacklist mechanism and automatic offsite backups. If we must mention its shortcomings, we believe that its Modpack support was insufficient. In this case, it would be better to have an extra service, since modpacking is often a complicated process.
Game Server Performance
We focus on three primary variables when testing gaming server hosting: RAM, server hosts, and space. All three are critical to the game server's smooth operation. RAM, for example, determines the size of your server.
Based on our Pingperfect server hosting experience, we discovered that the minimum RAM requirement is 64GB. This is, in reality, a high figure for its price, and it is rather good.
We've already discussed storage, and you're probably aware that SSD and NVMe are the best options. Pingperfect, which provides these alternatives, should be aware of this as well. As a result, it may offer perfect ping, as its name suggests.
Server selection is the most essential aspect influencing game server performance. Fortunately, Pingperfect provides a wide range of servers. Dual Xeons, AMD 7 Series, Samsung Evo SSDs, and NVMe Drives are accessible for individuals who prefer to play smaller games in small groups. These servers are, in our opinion, more than enough and powerful for tiny servers.
If we wanted to build a larger and more powerful server, we could use more powerful dual processors. The processors we are looking for in powerful servers are Xeon and NVMe Drives in particular. These incredibly powerful and speedy processors, in our opinion, form the foundation of a decent server.
Hosting Locations
Server location selection is usually a significant consideration. The main reason for this is that the geographical distance between your server and the players causes delays and lag. Some of the Pingperfect server locations charged additional fees and provided other services.

Pingperfect Reputation for other Gamers (4/5)
Many factors were considered when evaluating the hosting company. We examined every aspect of the game, including the control panel, costs, storage, and even the processor, and shared our findings with you.
As previously said, we set up a very tiny server for this evaluation. That's why we looked at other users' experiences to see if things had gotten more complicated for those putting up larger servers.
Because strong customer service is frequently highlighted, many individuals had a similar experience with us when setting up servers and were able to effortlessly open servers. However, we discovered that Pingperfect users were encountering update problems.

As a result, although Pingperfect is not the best hosting server site, we think it is reliable, and you won't regret your purchase. For a small-scale server experience, Pingperfect will do the trick, especially if you're looking to host servers for games like Scum, Rust, Factorio, DayZ, Barotrauma, Blackwake, Empyrion Galactic Survival, and Beasts of Bermuda.
This article contains affiliate links which are marked
with
. If you grab anything we mention using our referral links, we may get a small commission. However, there's no extra cost to you. If you'd like to learn more, check out our
affiliate disclosure page
.