You may wish to start your own server where you can play with your buddies or a large community. There are dozens of game server hosting companies to choose from. Naturally, people consider hosting sites which are legit, cheap and easy-to-use. 
In this article, we will discuss our experience with Ploxhost, a popular hosting service. We've set up a Minecraft server for you at Ploxhost and tested it for you. So, when preparing our Ploxhost review, we talked about its panel, features, performance, and price. This is our entire Ploxhost web hosting experience. Let's get into it!

User Experience and Ease of Setup (4/5)
Ploxhost claims to have an amazing support team and to be one of the most innovative hosting providers. So, is it totally correct tho? We were intrigued by this, so we decided to purchase game-hosting services from Ploxhost. So we could determine whether it is a good hosting service.
To begin with, because we were a tiny group, we a bought a small server for 7-8 people. We mention this since configuring a larger server takes more time and effort. If you plan to play with a larger group, you can get a RAM pack accordingly. There are also many player slot options that you can optimize.

First and foremost, the website's interface was incredibly user-friendly in our opinion. We quickly navigated to the tabs we want. Even installing modepacks might be challenging at times. However, Ploxhost made it simple to install with just a few clicks. It was adequate for use in our experience.
Apart from that, you can optimize the server you open in Ploxhost down to the smallest detail. You can view the console, server details, file manager, databases and more. Being able to manage all this means you have full control of your server, which is great. Ploxhost is a very useful hosting platform in this regard.
Ploxhost Control Panel
The more usable the control panel, the easier it is to set up the server. That's why we wanted to tell you about our experience. First and foremost, we think that the control panel interface is very handy and functional. Every feature that may be useful for you when setting up a server is presented to you in the tabs.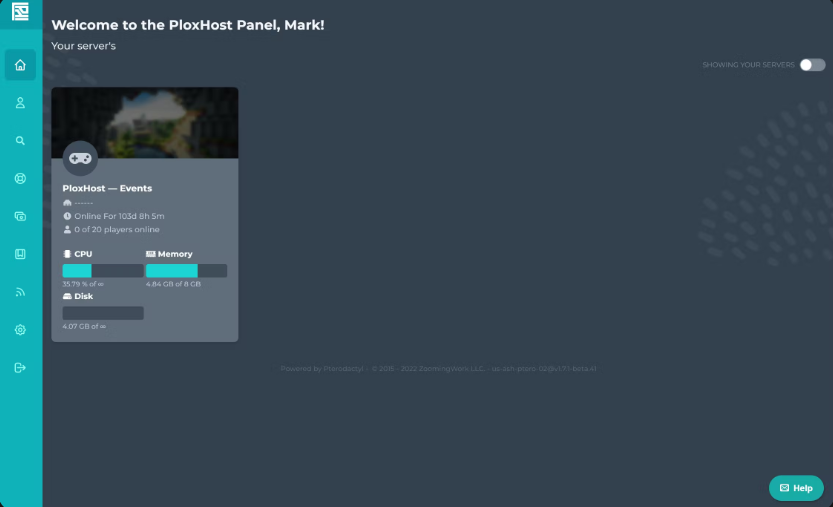 How long the server has been online, how many people are on the server (total and instant), your server CPU, Disk and Memory are clearly displayed on the main screen. Even if you want more details, many settings are waiting for you.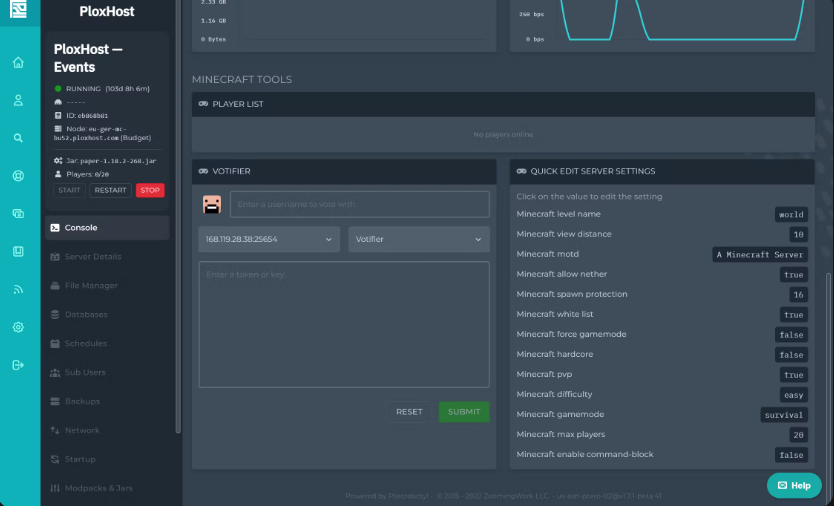 Some hosting companies may require you to provide your account password in order to receive an invitation to the server. We think this is an unpleasant manner. Fortunately, we did not experience this issue with Ploxhost. By configuring permissions, we were able to safely invite our friends to our server.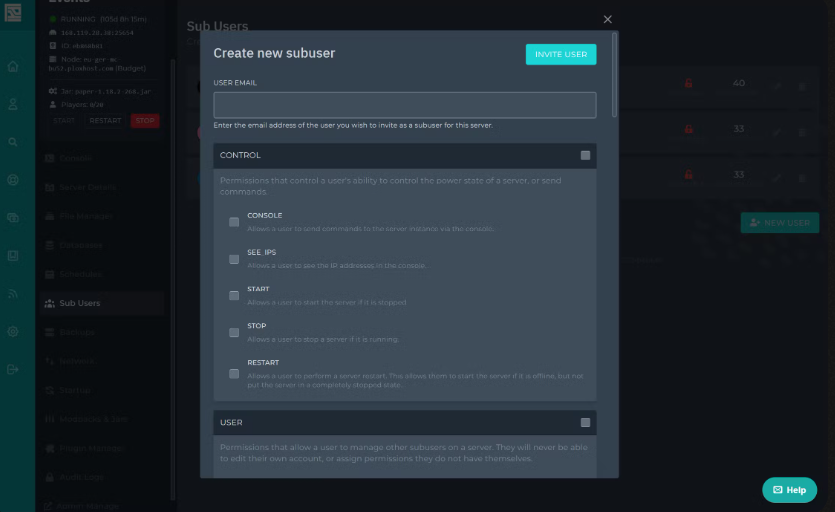 Another aspect of the control panel that we liked was the ease of use it provided for plugins. Many game hosting services install these plugins by hand. The 'Minecraft Plugin Manager' component is included in the Ploxhosting control panel. So, we were able to automatically get the plugins through the control panel.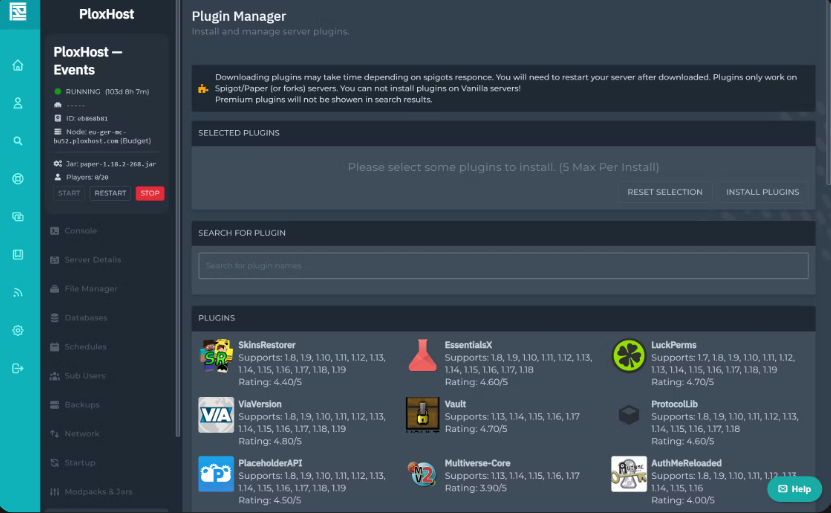 Overall, we found our Ploxhost control panel experience to be rather pleasant. In fact, because of the convenience it offers, we believe it could be an excellent alternative for new users. We really liked the Ploxhost control panel because it is easy to use and you can easily find every server feature you are looking for.
Ploxhost Pricing (5/5)
We think that Ploxhost's most noticeable feature was its extremely low costs (cheaper than Apex Hosting and Aternos). There was no extra payment for great customer care, and the server was built with incredibly high-grade components. There are packages and prices that can appeal to everyone's budget. The fact that both the unlimited slots are available and the prices are incredibly affordable puts Ploxhost in the top, compared to other hosting servers like Citadel Servers.
We selected from a variety of packages while customizing. As previously said, we set up a small server. We didn't need more than 1GB of RAM, therefore we went with the 'Sand' option with unlimited slots. We had to pay only 1.5 dollars per month for this. In comparison to its competitors, Ploxhost is relatively inexpensive in our opinion.
| | | |
| --- | --- | --- |
| RAM (GB) | Price | Player Slots |
| 1 | $4.00 | Unlimited |
| 2 | $8.00 | Unlimited |
| 4 | $16.00 | Unlimited |
| 7 | $28.00 | Unlimited |
| 10 | $40.00 | Unlimited |
| 16 | $64.00 | Unlimited |
Payment Options
Ploxhost offers three different payment choices. You can pay by using credit cards, PayPal, Stripe and the most importantly Crypto. Since Crypto is a new currency included in the market, it is so great that they support it.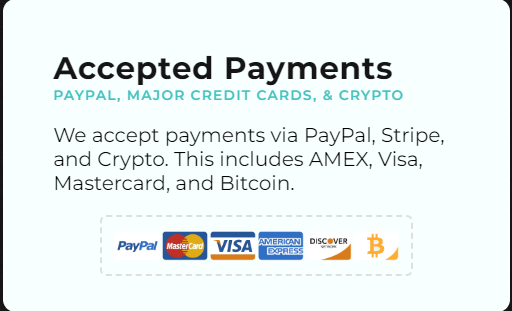 Ploxhost Support (4/5)
One of the most important aspects of a hosting service is definitely customer support. If there is customer service with poor communication or taking a long time to connect, that hosting service cannot provide you with full support. Therefore, we always make our assessments carefully. Ploxhost did not disappoint us in this regard.
Setting up a server can be daunting, particularly for beginners. Many people are frustrated by complex steps. In such cases, a good customer service representative should be able to assist you. Despite its low price, Ploxhost had a highly responsive support team in our experience. They assisted us in finding timely answers to our requirements and issues.
You can quickly contact and get help both by phone, e-mail and Discord. You can also create a ticket if you want, but this is a method that will take the longest to get an answer. However, the lack of live chat is a minus for us. Instead, you can expect instant answers by joining their Discord channels.
Ploxhost Features and Performance (4/5)
In addition to being a Minecraft hosting provider, Ploxhost also provides a variety of other services such as dedicated server hosting, Discord bot hosting, VPS hosting, and web hosting. Of course, we didn't have the opportunity to test all of the services. But we believe Minecraft servers provided enough information about Ploxhost's features and performance across many games it covers - excluding Atlas, which is one of the few popular titles Ploxhost doesn't have a server hosting service for.
First and foremost, its billing flexibility was highly favorable in our opinion. We can downgrade, upgrade, or even cancel at any time because Ploxhost doesn't have a billing plan.
We believe that because it is simple to use, even inexperienced users may easily set up the server. It can even help with difficult-to-install modpacks. Besides, it provides very good and useful optimization features for your Minecraft or other servers. In other words, you can manage and customize your server from top to bottom.
Furthermore, the reasonable price and high-quality customer service left a good impression on us. While maybe not the best hosting provider on the market, Ploxhost is an inexpensive platform that can do the job.
Game Server Performance
Ploxhost provides two distinct service options: cheap hosting and extreme hosting. Of course, the prices and features of these two services are different. Although the Budget package is less expensive, it has Dual Intel Xeon E5-2690 Series processors. This is an excellent deal because it is one of the top hardware options for Xeon server hosting.
Furthermore, affordable hosting contains SDD storage, whereas extreme hosting uses NVMe storage. Of course, NVMe storage is larger and faster. So, if we were to set up a larger server, extreme hosting is a better option. Still, SSDs are excellent storage devices.
Although not as fast as NVMe, it is a far superior and faster alternative to a hard disk. It may even be appropriate for small servers. So, in our perspective, the storage capacity was adequate.
Hosting Locations
Choosing a hosting location is a vital component of setting up a server because the incorrect location might bring a slew of issues. In other words, if the place we specified and the area we were in were not the same, we could have had several delays and lag issues.
However, Ploxhost does not provide a comprehensive selection in this area. There were just three options, and we had to pick one of them. The following are the Ploxhost location options:
United States/Dallas, Texas
United States/ New York City
Europe/ Frankfurt, Germany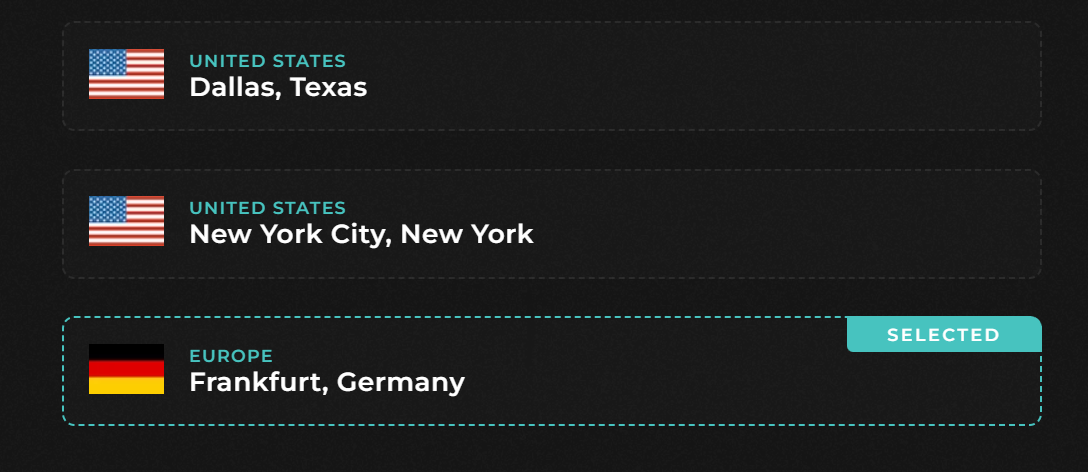 Ploxhost Reputation for Other Gamers (4/5)
We talked a lot about the features Ploxhost offers and whether it is useful or not. So other than our opinions, what do other users think? We have clearly stated our ideas to you. We think Ploxhost is a very useful, inexpensive and good hosting platform that anyone can choose. We did a little research to get an idea of other users' opinions.
Fortunately, the majority of users who have used Ploxhost are pleased with its services. Many consumers are happy with the great quality of the services despite their low costs. However, some users think that Budget hosting is insufficient and impracticable. As previously said, your server's requirements are critical. If you plan to launch a large server, we believe that extreme hosting is a better option.
Today, we took a deep dive into the Ploxhost platform and shared every detail you need to know with our sincere thoughts. You can be sure that we try and test all the steps one by one. All in all, we are satisfied with Ploxhost and are considering using it again. Both affordable prices and server features made us very satisfied. Although it has some shortcomings, Ploxhost can be among the first choices of those who want to protect their budget. That's all from us for today, take care!
This article contains affiliate links which are marked
with
. If you grab anything we mention using our referral links, we may get a small commission. However, there's no extra cost to you. If you'd like to learn more, check out our
affiliate disclosure page
.