Best site to sell your CS:GO skins for real money [All Tested] + BONUS CODES
We tested a huge variety of marketplaces to sell CSGO skins and rounded up the top 5 for you.
We analyzed, used and tested approximately over 100 skin-selling marketplaces to be sure, and we chose the top ones For You (we actually use privatly as well).
For you, we chose these top five marketplaces. We tested and reviewed these websites focusing on their reliability, reputation, pricing, user experience, and customer service. In this way, we made an effort to help you choose the best place sell your CSGO skins. Let's get started!
Tradeit.gg
Tradeit.gg is a legit and safe site to sell CSGO skins. To begin with, their website has over 2 million members, and many of them are pleased with their Tradeit.gg experience. That is why we want to emphasize that it is entirely legal and trustworthy.
We could easily and swiftly sign up to Tradeit.gg because of their simple interface. The first thing we noticed about this website was its extremely user-friendly UI. Signing up and selling skins was a breeze. Because it is a very useful site, most users are more than satisfied with Tradeit.gg.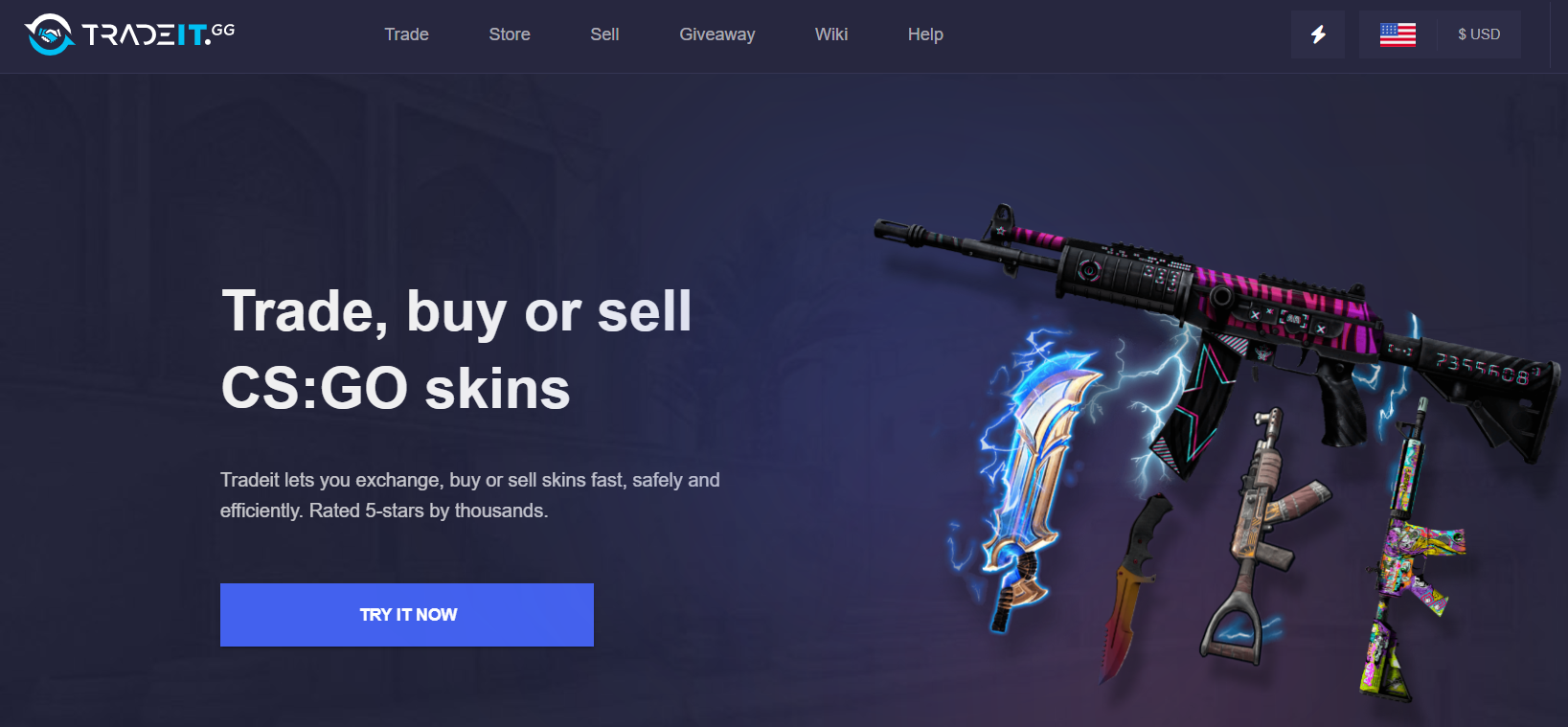 We examined Tradeit.gg withdrawal and deposit methods. We didn't think Tradeit.gg was good enough because they don't accept PayPal. It was unfortunate that Tradeit.gg did not provide this option, as PayPal is currently the favored method for many people. Other than that, you don't pay any extra fees when selling or buying CSGO skins.
Furthermore, when selling CSGO items, it is critical to consider how much the website offers. That's why we looked at Tradeit.gg's skin pricing and compared them to others. Tradeit.gg, like other websites, better offers than the Steam Marketplace. This is probably good for buying but not so much for selling.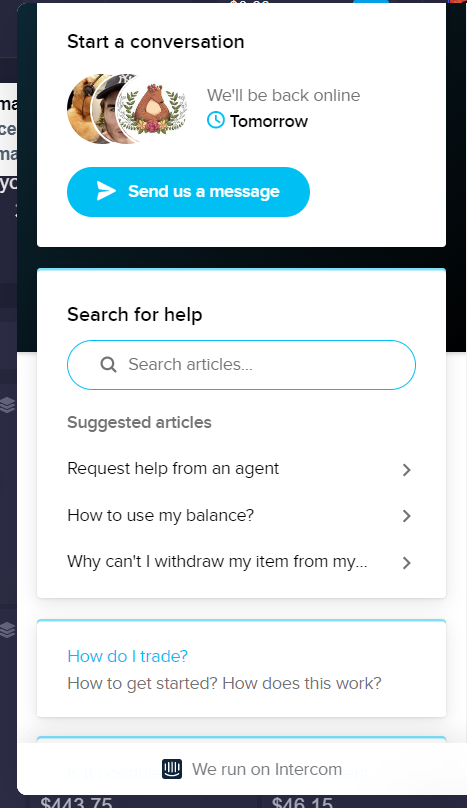 Finally, we tested the customer support, and we think that Tradeit.gg is lacking a bit about this. We can't say that Tradeit.gg's customer service was great because we didn't get a quick response, even though they offer Live Chat support.
Finally, you can take advantage of special discounts by using the code "TGG" provided by us.
Skinwallet
Skinwallet is another legit platform where you can sell your CSGO skins with peace of mind. Skinwallet, which has been on the market since 2016, is widely used. In fact, it was impossible to find a negative comment regarding this site when we read comments about it.
Many users adore Skinwallet, particularly its instant cash feature. As a result, we can confidently state that Skinwallet is 100% secure and legal. The first thing we noticed about Skinwallet was its user-friendly UI. It also comes in nine different languages. In our opinion, these features enhance the user experience.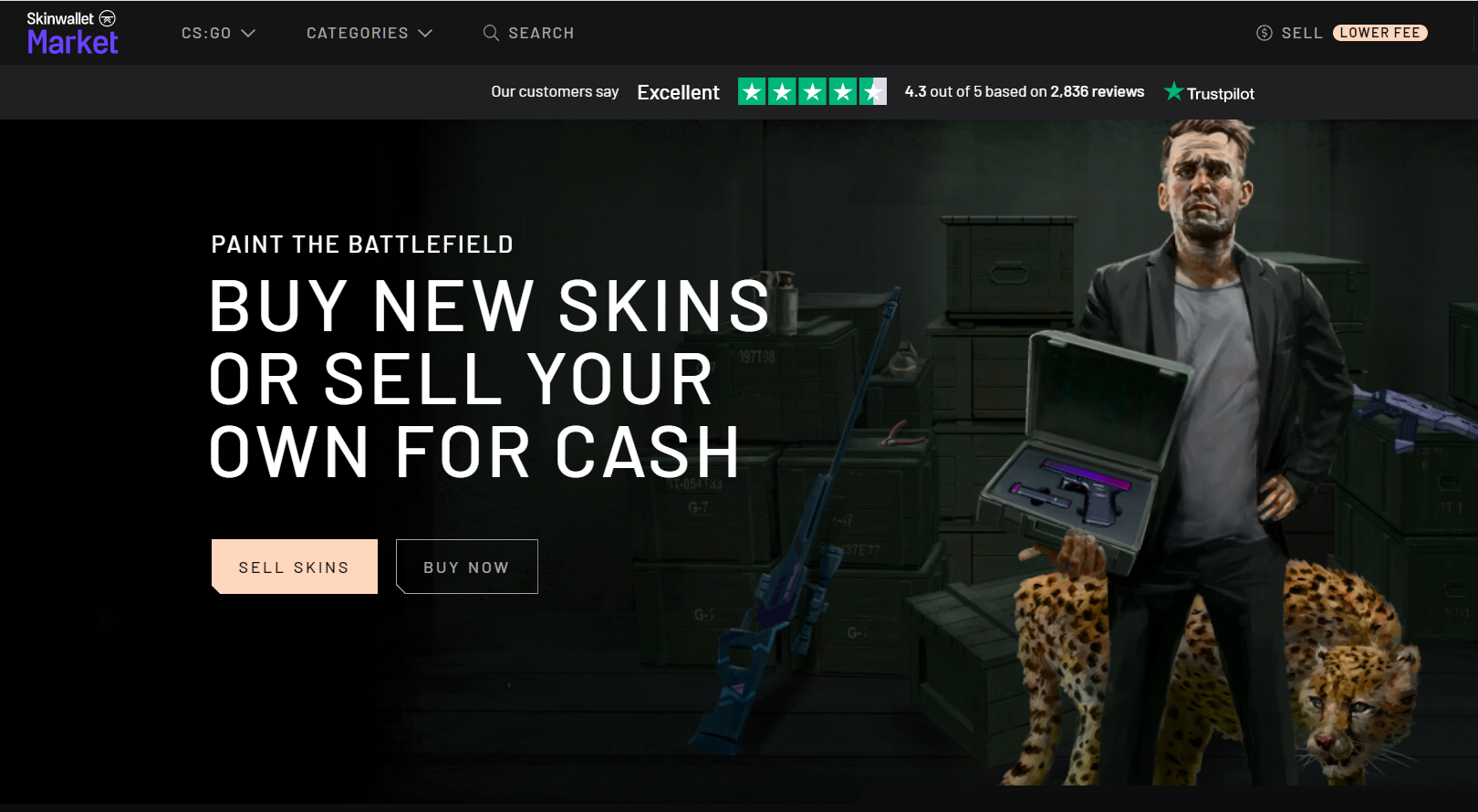 However, Skinwallet does not have a mobile app. In our opinion, this is a highly bad scenario because many consumers now want to do their transactions on their phones.
Our purchase was simple because of its smooth interface. We were also happy that there were no hidden fees, as many CS:GO skins seller platforms have bothersome hidden fees.
Skinwallet provides over 250 different deposit options. That's fantastic if you're going to buy CSGO skins. However, there aren't many methods for withdrawing money. Even that, we could use PayPal, Payoneer, and Tipalti. These choices are sufficient for withdrawing. Even if you prefer Tipalti, you will not pay any commissions.
Finally, we looked into Skinwallet's customer service. However, Skinwallet does not provide Live Chat which is a huge minus. Instead of this, they communicate with the ticketing system. In our opinion, the ticket system is not a modern choice. Even so, we received a response from Skinwallet customer service within 10 minutes.
If you want, you can take advantage of the discounts with the code "TGGWALLET" that we have specially defined for you.
DMarket
DMarket, one of the most popular trading CSGO skins sites, is at the top of our list. DMarket is a legit platform with low prices for selling CS:GO skins. We can say that this website is fully legal because it has been in the industry for years and many people are happy with their DMarket experience. But, we needed to test it to make sure if they really are!
At first, we were pleased with DMarket's user-friendly UI. As a result, we had no trouble selling CSGO skins, and everything went swimmingly. So, what were the DMarket's sell CS:GO skins features?
To begin, we'd like to point out that DMarket's selling fee ranges between 1 and 7%. You may also check the skin prices you want to sell and make an instant sale on this website.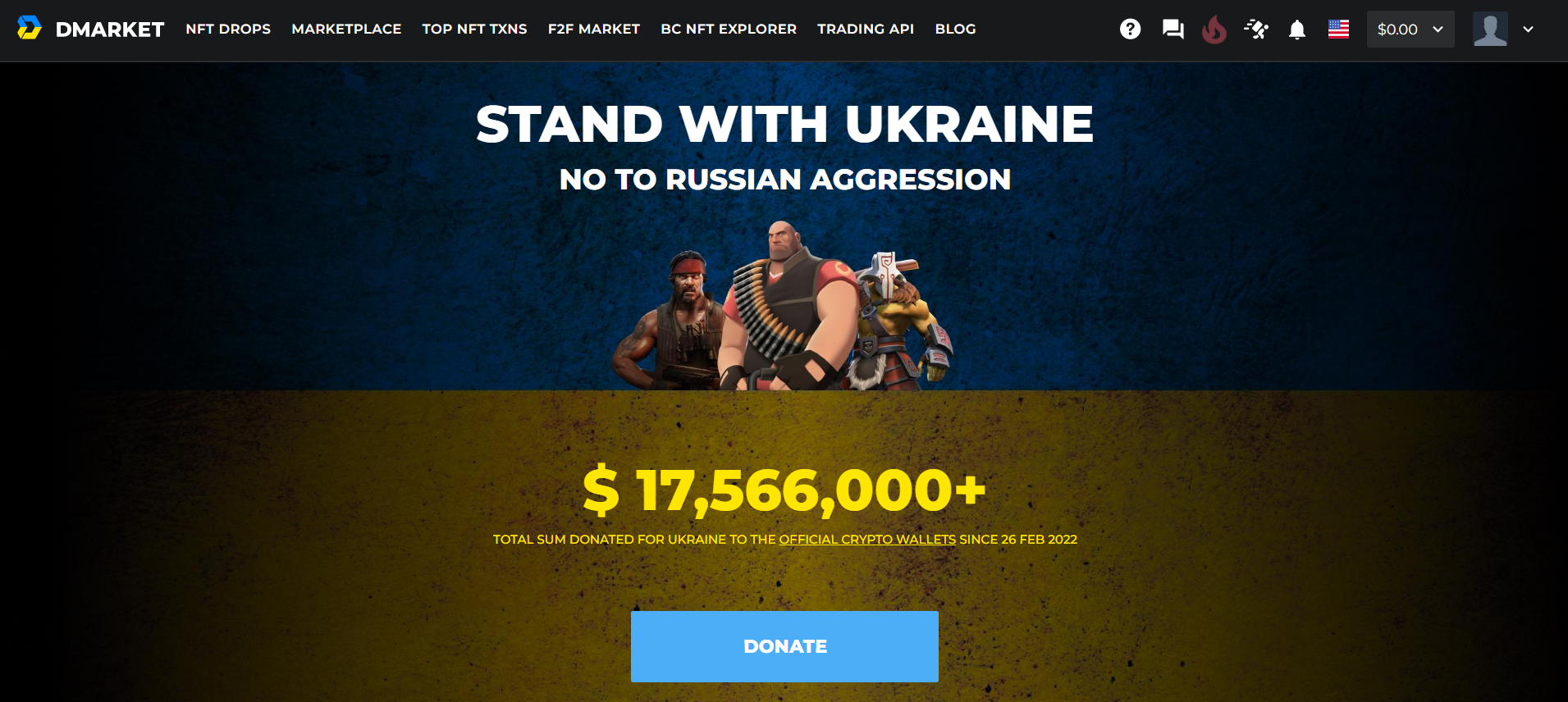 In our experience, the fee for the skin we sold was paid into our account quickly. To be honest, we appreciated how quick it was. However, something disappointing happened to us at this point in our experience; the withdrawal methods!
In truth, DMarket provides numerous ways of "depositing money". However, we only had about half as many possibilities for withdrawing money. Still, having options like Visa, WorldMoney, and Payoneer felt reassuring.
Furthermore, you may wish to use DMarket to purchase new skins rather than old skins. They are also quite good at this because, as previously said, they have the best prices. You can buy skins at much lower prices, especially when compared to their Steam prices.
As you are aware, selling skins may be a stressful job that might result in problems. A good support team is required to solve these issues. That's why we put DMarket's customer service to the test. In our experience, DMarket provides good Live Chat and email assistance. We were also able to change the language of Live Chat. This option was appreciated by us very much.
If you want, you can take advantage of the discounts with the "TGG" code that we have specially defined for you.
Skinswap
Skinswap is one of the legit and perfect trading websites where you can buy and sell skins. We needed to make sure this platform was legal before reviewing it, so we did some research. We noticed that there are security precautions such as DDoS and SSL. So we are confident that it is fully legal and trusted.
In addition, based on the comments of other users, we discovered that many users are pleased with it. We've even read reviews claiming it's the best-selling site or the most effective trading bot for this website. That is why we think Skinswap is a good option to sell CS: GO skins.

Of course, it was too early to say that it is one of the best sites, and we needed to see it for ourselves. According to our tests and analysis, its UI was really simple and useful. So we signed up in just a few minutes and got to selling our weapon skins.
The best part is, there are no hidden fees. In our opinion, this is one of the greatest features of a trading site. It was also convenient that Skinswap offers instant cash out. Skinswap has already gained popularity because of its fast cashout feature, and we think they are quite good at it.
Furthermore, it provides four withdrawal options: Bitcoin, Ethereum, Litecoin, and PayPal. In our opinion, the possibilities are somewhat limited. We would anticipate wider withdrawal options from such a major skin marketplace. But still better than its competitor, Lootbear.
Finally, we put customer service to the test. It's always unfortunate to run into issues on a platform where we trade with real money, but superb customer service can fix almost everything. Fortunately, Skinswap met our expectations with their ultimate functionality. Customer service was satisfactory in our experience. We were able to reach the support team in seconds thanks to the Live Chat feature.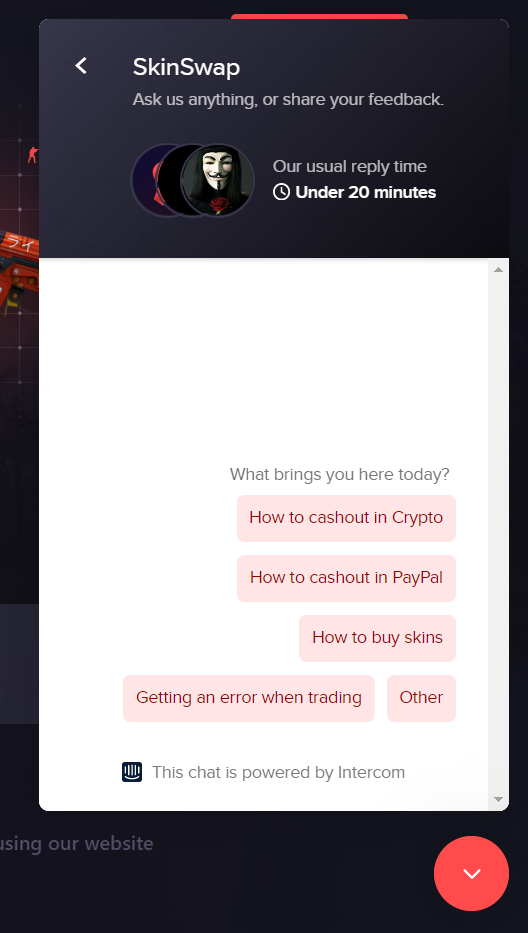 If you want, you can take advantage of the discounts with the "TGG" code that we have specially defined for you.
SkinBaron
SkinBaron is one of the best choices for selling your CS:GO skins. SkinBaron employs SSL encryption and it has been approved by numerous streamers. So, we can say with full confidence that this website is completely safe and legal.

To give more information, many people have given SkinBaron great feedback, and it has cooperated with one of Germany's best Esports organizations. Because of this, we decided to put SkinBaron to the test for you.

In our opinion, the user interface is poor quality compared to its competitors because it is not modern and refreshing. However, users can use choose 7 different languages for the website, which is a huge plus.
We completed the registration process and sold our skins easily and without any problem. What drew our attention was the fact that it provided millions of skins at reasonable costs in comparison to the Steam Community Market.
We also went over the withdrawal methods. We were able to withdraw cash via bank transfer and many other. In our opinion, this is a positive feature because many websites do not provide this choice.
Also, when we checked their customer service, we only had the option of contacting them by e-mail. There was no Live Chat. In our opinion, e-mail customer service is a slow and inefficient method and users prefer Live Chat.
Unfortunately, SkinBaron does not have a code you can use.
In this article, we've listed five websites where you can sell skins for money. Honorable mentions are Skinport and CS.Money which we also totally recommend but the prices aren't that competitive. 
Furthermore, we can confidently state that they are all entirely legal. You can choose which one you prefer by reading about our experiences and start making money by selling your CSGO skins. You can trade the money you gain by purchasing more skins if you desire on the best csgo skin buying sites. This is all from us for today, thank you for taking your time. Take care!