Among the best aspects of CSGO, which has been a fan favorite for years, is the variety of skins available. Many skins are so cool and appealing that almost every CS:GO player wants to have them. However, players don't like every skin they have. So trading skins is a fantastic way to solve this.
We reviewed and tested over 100 skin marketplaces and chose the best trading sites for you. We evaluated these websites based on a variety of items, including reputation, pricing, user experience, and customer service. In this way, you can trade your items easily and without any problem. So, without further ado, let's learn about the best trading sites for CSGO!
Tradeit.gg
Tradeit.gg is a popular platform that springs to mind while discussing CSGO trading sites. With over 2 million members, we can confidently say that Tradeit.gg is a legit CSGO trading site. In fact, we know that many users are pleased when we read about other users' skin trade experiences on this website. However, we decided to delve deeper and learn more about them.
The nicest part about Tradeit.gg is that, even if you are a new user, you can trade skins with ease because of its user-friendly UI. In fact, if you want to do CSGO skin trading in Tradeit.gg, the trade offer will appear on your Steam account in less than a minute. This is a really comforting feature.
After completing the trading skins process, we were able to see the new skin in our inventory in a very short period of time. It was fantastic for us that everything was handled so fast and smoothly.
When we wanted to sell skins, Tradeit.gg made this process very simple. However, the lack of a PayPal option in the payment options was disappointing. Because PayPal is such a popular method of payment, we would expect a large trading site to provide it.
In our opinion, the most essential part of our analysis is the pricing comparisons. So, we compared Tradeit.gg's prices with those of its rivals. We discovered that it was more affordable than the Steam Community Market in the first place. In Tradeit.gg, there is a fee that ranges from 2% to 6%.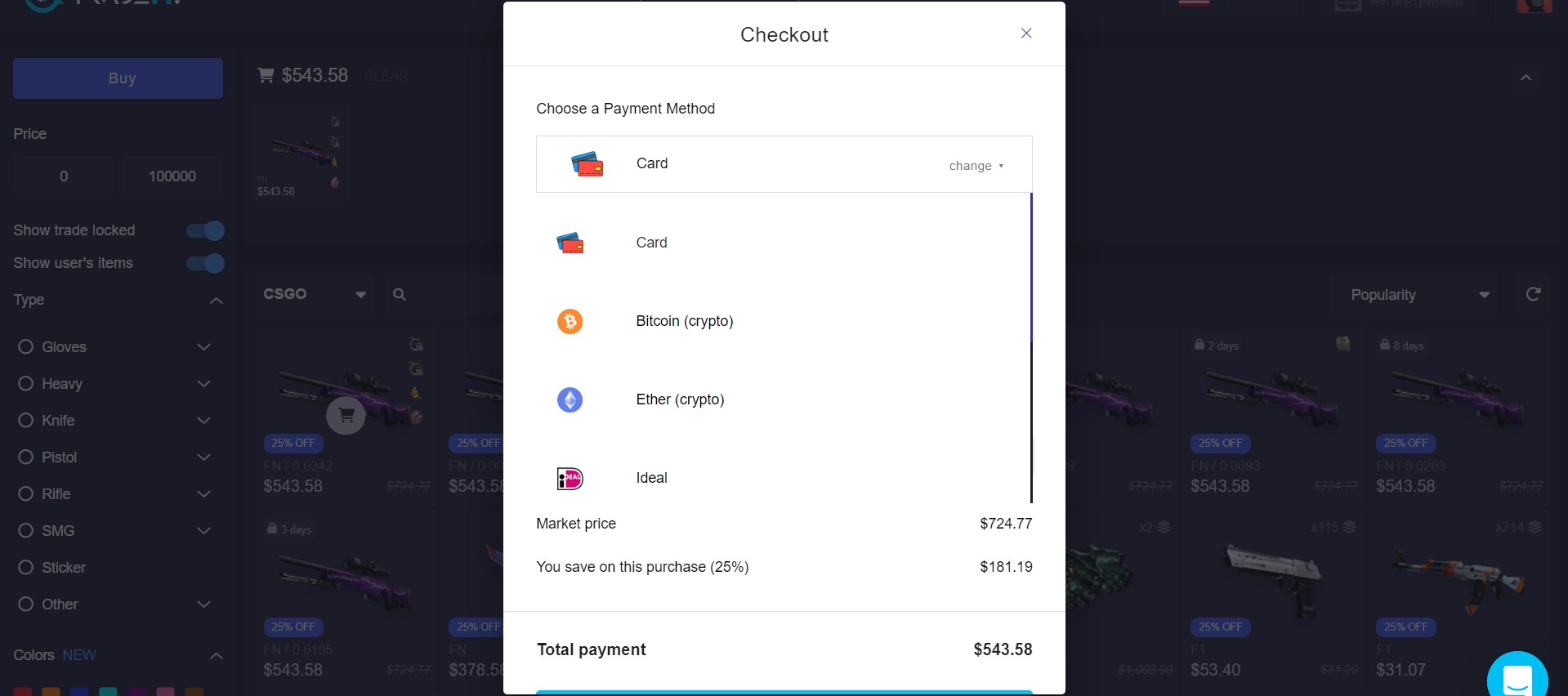 Finally, every process went swiftly and easily. But when we tested customer service we were quite let down. Despite the fact that Tradeit.gg has a Live Chat option, we did not receive quick responses. So, in our opinion, Tradeit.gg customer service was not sufficient.
Finally, you can take advantage of special discounts by using the code "TGG" provided by us.
CS.MONEY
Another marketplace that allows the trade of CSGO skins is CS.MONEY. This trading site has been included in our list because we are convinced that it is completely legal. With millions of users and long years in the market, CS.MONEY is one of the most trusted skin trading sites.
In addition, when we examined other players' experiences in CS.MONEY, we found no negative feedback. This piqued our interest in trading CSGO skins on CS.MONEY. So, how did we find our time at CS.MONEY? Let's talk about it.
The nicest part of our experience was the very simple interface for skin trading, which allowed us to easily complete all of our trades. Also, when we chose to trade skins, trade offers were sent within seconds, which we thought was excellent service.
When we looked into the payment methods, we found CS.MONEY is a bit lacking, especially when compared to DMarket. We weren't too disappointed, though, because it allows us to pay using Bitcoin or PayPal.
Furthermore, it provided more convenient trading opportunities than the Steam marketplace. In our opinion, this is a useful feature because trading on the Steam Community Market might be tricky at times. And you can't find every piece you're looking for there.
Apart from that, trading fees at CS.MONEY are between 2% and 7%. Apart from this, we would like to state that we do not encounter any hidden fees when we want to buy CSGO skins. In this respect, CS.MONEY is very useful.
Finally, we put CS.MONEY's customer service is to the test. In our opinion, the greatest trading site for this was CS.MONEY. According to our experience, it provides excellent customer service because we were able to get responses to all of our problems within minutes. So, even if we run into a problem in CS.MONEY, we know it will be simple to resolve.
CS.MONEY does not have a bonus or promo code that you can use.
Skinswap
Skinswap is a legit CSGO skin trading platform with instant cashouts. Skinswap is a well-known and legit platform. This is why many people favor Skinswap for CSGO skins trading. We read reviews about Skinswap before trying it and noticed absolutely nothing negative. Afterwards, we gave it a try!
We checked Skinswap's legality and signed up for a CSGO skins trading test. In our opinion, Skinswap has a perfect and comforable UI, so registering on the site was quick and easy. However, the lack of support for languages other than English is a negative side. But, it was reassuring that any money left over from the trade was instantly paid into our account.

Another factor we paid attention when trading on Skinswap was the range of payment methods. Fortunately, Skinswap is diversified as it provided numerous payment alternatives, including credit cards, Bitcoin, Litecoin, and PayPal.

Also, the skin prices drew our interest because they were so cheap. Furthermore, when we conducted a real Steam Market analysis and comparison, Skinswap provided more relevant trading offers than its competitors. In our opinion, this makes Skinswap quite appealing and assertive.
What's nice is that there are no additional or hidden fees. In our opinion, this is one of the best aspects of a trading website. The fact that Skinswap allows for fast cashout is extremely convenient.
Furthermore, we were curious and tested to see if the customer service was adequate for our difficulties and questions. The Skinswap Live Chat service was excellent, and we had responses in seconds. To be honest, we were quite surprised because many websites don't do a good job about this. Overall, we were completely satisfied with our experience in Skinswap.
If you want, you can take advantage of the discounts with the "TGG" code that we have specially defined for you.
DMarket
DMarket is a popular skin trading site known for its affordable prices and millions of members. We can say that DMarket is safe and legit because it has a large user base and we have practically never encountered negative feedback when reviewing user comments.
When compared to the Steam Community Market, we think that using DMarket is more advantageous in terms of both prices and skin trading. However, we also examined DMarket's other features to ensure that it is one of the good CSGO trading websites.
Another feature we appreciated about DMarket was its user-friendly UI. Trading CS:GO skins was so simple with DMarket that we believe even a newbie could do it.
Furthermore, DMarket allows you to cashout with skins. At this point, the payment options it provides are critical, and DMarket provides numerous.
DMarket charges a fee for both sellers and buyers that ranges from 1% to 7%. In our opinion, this is not much for a trustworthy and high-quality website. Additionally, the pricing is pretty generous when compared to other CSGO sell sites.
Finally, even though everything is rather simple, we worried if DMarket would provide appropriate support if we encountered issues with skin trading, so we tried customer service for you. DMarket, which provides LiveChat service, allowed us to contact in so many languages and provided very quick responses. From our perspective, this was quite good.
Skinport
The last CSGO skin trading platform we tried for you is Skinport. First of all, we would like to point out that this platform has been around since 2019 and is recommended by famous streamers such as "TDM_Heyzeus" and "Diddle". All this proves that Skinport is totally legal.
We immediately signed up and started the trade testing. In our opinion, it has a great interface. Additionally, in our experience, it was so easy to pay and trade. Also, we could find so many item varieties in Skinport.
In terms of payment, another feature we wanted to highlight was payment methods. According to our experience and testing, Skinport provides its users with the most dependable payment methods. It is possible to find 11 different payment methods in total in Skinport. And the payment methods vary depending on the region you live.
Skinport is affordable and generous in terms of price. You can trade without paying any additional or hidden fees. We believe Skinport has one of the greatest pricing when compared to competing websites.
Skinport offers customer support via email and Discord. Also, if you want to get support via email, you need to create a ticket. However, this is a bit of an outdated method in our opinion. It was in average speed and they solved our problem at the end.
Skinport does not have a bonus or promo code that you can use.
As a result, when you ask how to increase CSGO skins' value, the most risk-free way is to trade. But there are millions of trading sites and many of them are scammers. In this article, we examined five of them that are completely legal. We hope we were able to assist you in deciding which site to choose when trading. See you later, take care!
This article contains affiliate links which are marked
with
. If you grab anything we mention using our referral links, we may get a small commission. However, there's no extra cost to you. If you'd like to learn more, check out our
affiliate disclosure page
.