Best Sites to Buy Skins in CSGO [All Tested] + Discounts %
We tested a huge variety of marketplaces to buy CSGO skins and rounded up the top 5 for you.
CSGO is one of the biggest online gaming economies worldwide. There are skins worth up to $16k and it's a huge market. And price is a very important factor in this regard.
To be sure, we tested over 100 skin buying marketplaces and decided on the best ones. We reviewed the five best marketplaces for you. We evaluated these websites based on a variety of items, including reputation, pricing, user experience, and customer service. In this way, we attempted to assist you in locating the best website to buy CSGO skins. By the way, you should not be confused by the fees stated on the site because at the end it's the price that counts. Let's get started. 
Skinport
Skinport is a legit and safe skin marketplace for CSGO selling and buying. Especially, it is one of the most quality websites in the industry. We have tried many sites and we can confidently say that Skinport is one of the best.
Skinport has been around since 2019. Despite being on the market for a short time, many users consider Skinport a unique platform. It has overwhelmingly positive reviews everywhere and we think their service is truly outstanding. Skinport is by far one of the best sites within its niche.
In terms of price, it is quite generous and preferable. You can buy the skin or item you want without paying any extra or hidden fees. Compared to other competing sites, we think Skinport definitely has the best pricing plan. Pricing is great not only for CSGO but also for Dota 2 and TF2.
Skinport has a wide variety of items available that you can reach. If you're seeking for inexpensive skins, look no farther than this marketplace, which is ranked among the top ones in terms of skin diversity. You may access the extensive collection of in-game skins and items easily.
We were very satisfied with Skinport's customer service. We received a response from both email and Discord help services in a short time and they resolved our issue with the greatest interest. We didn't look for the lack of live chat.
Skinport does not have a bonus or promo code that you can use.
DMarket
According to our testing, DMarket is a very trustworthy and legit website. That's why we didn't worry about its security while choosing it to buy CSGO skins. In our DMarket review, we also looked at what other users had to say. And we found that, not only us, but most people are pleased with DMarket's services.
In our opinion, the most significant feature of a CSGO marketplace is its ability to offer cheap CSGO skins in comparison to its competitors. After all, we may request dozens of buying CSGO skins and save money by using services that provide the best deals. In our opinion and based on our analyses, DMarket provides quite fair and good prices. 
DMarket has a fee between 1% and 7% for both sellers and buyers. In our opinion, this is not much for a reliable and quality site. Also, comparing with other CSGO selling sites, the prices are quite considerable.
Another important point is that Dmarket provides a sufficient variety of items. DMarket offering dozens of distinct Counter-Strike Global Offensive skins and shines in the industry.
Furthermore, DMarket has a really simple and easy-to-navigate UI, in our opinion. We had no issue selecting the things we desired from the Market section after checking in with our Steam account.
Also, DMarket provides a number of payment alternatives. However, procedures will differ based on where you live. If you live in America, you can pay with cryptocurrencies such as Bitcoin, Ethereum, or Litecoin in addition to credit cards.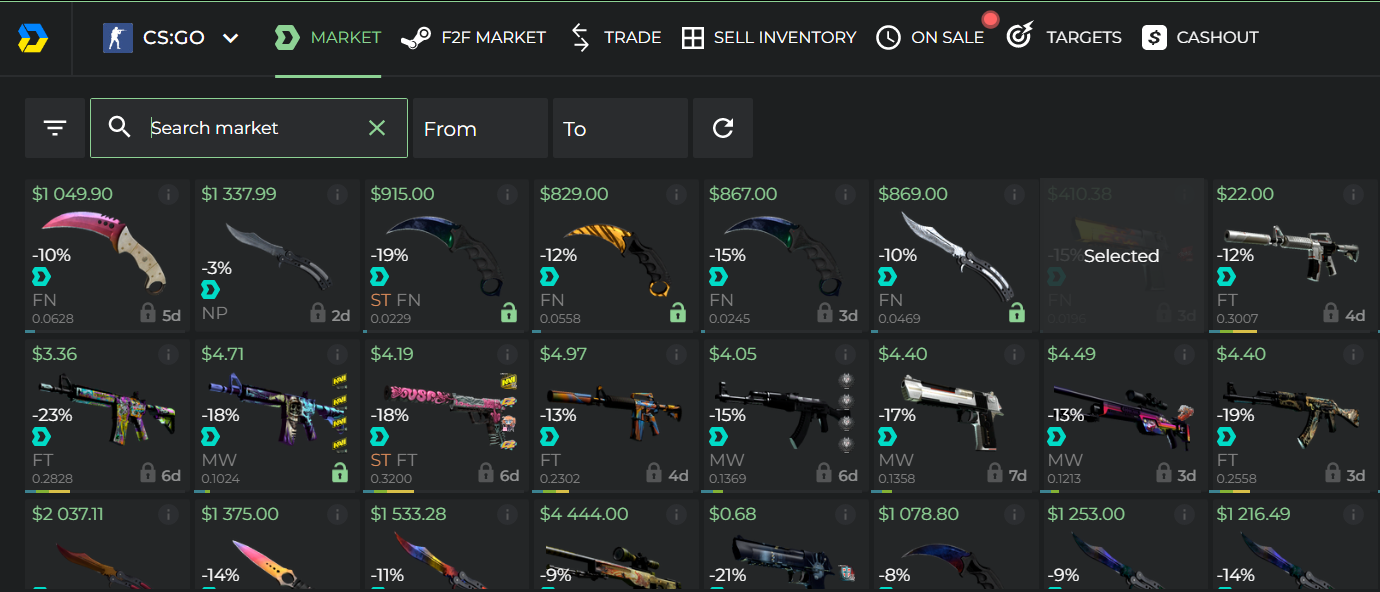 Finally, we put the DMarket support team features to the test for you. DMarket offers customer service via Live Chat and email. When we contacted, we got very fast answers and they solved our problem right away. As a result, we were very satisfied with the customer service. 
If you want, you can take advantage of the discounts with the "TGG" code that we have specially defined for you.
Furthermore, we reviewed other users' feedback and noticed that it is a website that many people enjoy using and have no major issues with. The fact that no scandals have occurred until this time makes them a very reputable and reliable site.
In our opinion, price comparisons are the most crucial aspect of our review. As a result, we compared Tradeit.gg's prices to those of its competitors. First and foremost, we found out that it had lower prices than the Steam Community Market. There is a fee of between 2% and 6% in Tradeit.gg.
While we can't say the same for other games, we believe Tradeit.gg has a large variety of CSGO skins. We encountered numerous skin types when testing Tradeit.gg for you, and it received full scores in pricing from us. Tradeit.gg has great selection of skins and is much more extensive than Steam Community Market.

Tradeit.gg just updated their website design. We think that this adjustment is pretty beneficial and useful. However, there are still some bugs that must be fixed.

When we looked at the Tradeit.gg payment methods, we noticed that PayPal was not included. In our opinion, this is a disadvantage. However, we believe that Tradeit.gg compensates for this issue by offering a 25% bonus on first deposit. We must admit that this is a really generous bonus.
Perhaps you've heard of Tradeit.gg's infamous reputation for customer service. We wanted to give it a shot as well. As a result, we weren't pleased with the outcome. Our problem was not resolved within the time frame we requested. In our opinion, Tradeit.gg does not provide good customer service to its users overall.
Finally, you can take advantage of special discounts by using the code "TGG" provided by us.
Skinwallet
Skinwallet is one of the most popular marketplaces for buying and selling CSGO skins. It's been running since 2016, and it's a legitimate business. We have made sure that all information and logs are encrypted and there have been no scandals seen in Skinwallet so far.
When we research about Skinwallet on the internet, it is obvious that most users are satisfied. Many users, both buyers and sellers, visit Skinwallet for the second time after using it. This proves how laudable they are in the context of reputation. When compared to other websites where it may take weeks, people are frequently surprised that they may get cash instantly on a CSGO marketplace.
According to Skinwallet's founders, you may frequently find game products on their website for discounts of up to 60%. We tested it to be absolutely sure. Of course, we came across cheaper prices than Steam prices. But besides that, we did not encounter any hidden fees, so the price you see before you buy is always the final price.
As for item variability, Skinwallet has done a great job especially in CSGO. Any item you can imagine, old or new, can be found on Skinwallet. In terms of the user experience, Skinwallet is up to standard with what we would anticipate from an online skin market unlike Lootbear.
Finally, we have seen that Skinwallet is outdated and insufficient in terms of customer support. We did not encounter any service that we expected to see on every site, such as live chat. Apart from that, there is a FAQ section where you are likely to find the answers you are looking for.
If you want, you can take advantage of the discounts with the code "TGGWALLET" that we have specially defined for you.
CS.MONEY
CS.MONEY has been in operation since 2016 and is one of the safest sites where you can buy CSGO skins out there. After testing almost 100 sites, we came to the conclusion that CS.MONEY is one of the best and legit sites to buy CSGO skins.
Best CS:GO selling sitesFurthermore, when we looked at the reviews of other players, we found almost no negative comments. So it has been a consistent success for so long. In terms of dependability, we believe CS.MONEY is a solid place to buy CSGO skins.
When we look at the pricing of CS.MONEY, we can say that it is average. It can also be challenging to find good trading sites like CS.MONEY. Even yet, the costs are lower than in the Steam Community Market. Furthermore, as a buyer at CS.MONEY, we encountered no hidden fees and discovered that seller fees are limited to 7%. This is a very favorable side of CS.MONEY in our opinion.
We reviewed CS.MONEY's selection of CSGO skins, as we do while surfing other websites. In terms of skins variety, we believe CS.MONEY is well ahead of its competitors. Furthermore, based on our experience, it offers a diverse choice of products, especially knife and weapon skins. For example, if you can't find your favorite AK 47 skin elsewhere, you may check CS.MONEY because they have almost all of the CSGO skins.
Furthermore, the UI of CS.MONEY's website was simple and cool-looking. Being ad-free and being able to swiftly sell or buy CSGO skins makes it stand out in the industry. In our experience, it also did not have complicated registration processes when compared to its competitors. 
However, in our testing, the payment options are the weakest link in CS.MONEY. If we are to criticize one aspect, we can say that there is not much variety in payment options.
Lastly, CS.MONEY's customer service was very helpful and timely. We were able to find a solution to our problem as soon as possible and they provided assistance in the best way possible.
CS.MONEY does not have a bonus or promo code that you can use.
As a result, there are numerous places where you may buy CSGO skins (they are also good websites to sell csgo skins). We also looked into some of these websites and shared our experience with you. Based on our testings, you may choose which website to use to buy skins for the unique game CSGO by Valve Corp. See you later!