Overwatch 2 boasts colorful and diverse characters, showcasing their unique personalities and design. Skins add flavor to their initial designs, showcasing fun alternate costumes for the characters. The skins in Overwatch 2 are usually purchased with in-game currency, microtransactions, earned through gameplay, or received as a reward during events.

However, with the first Overwatch game gone, players wonder if skins from the previous game will somehow make it to the sequel. Unfortunately, there are some Overwatch skins you can't get anymore.
Brick Bastion
Bastion is a fan-favorite hero from Overwatch thanks to his personality and backstory. As such, Bastion's skins are amazing enough to awe Bastion mains out there. However, there is a skin that players cannot get anymore because of its rarity now, and that is the Brick Bastion.
You can only get the Brick Bastion if you complete the Bastion's Brick Challenge Event from Overwatch 1. Unfortunately, if you didn't take the challenge before, then consider this skin will be forever out of your reach.

Doctor Ziegler Mercy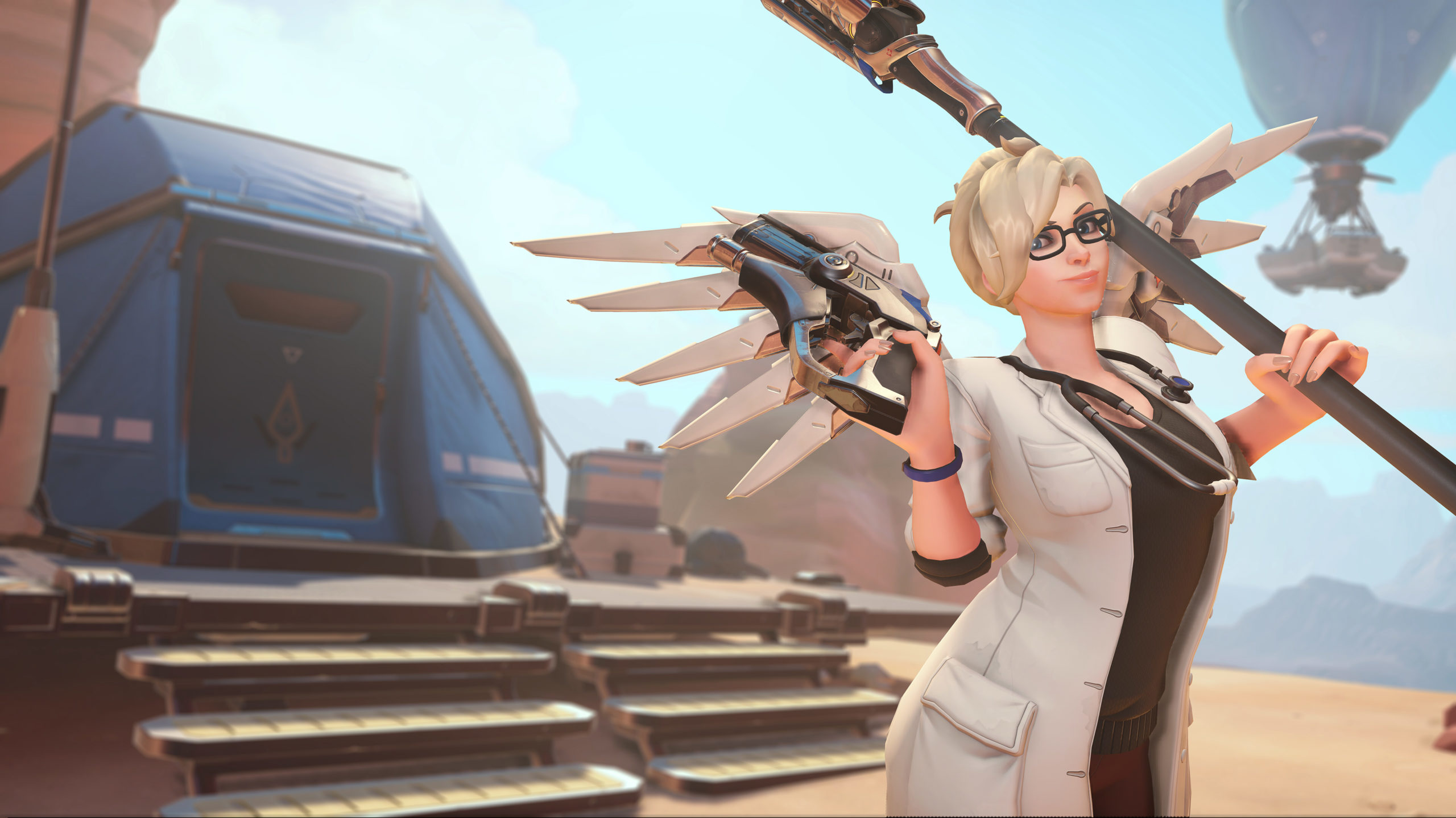 Mercy's Doctor Zeigler skin is a nice take on the hero's background story as a doctor in the Overwatch mythos. Mercy dons a traditional doctor's coat, a stethoscope, and glasses that gives the hero a much more minimalist casual look than her usual costume.
However, the skin is not obtainable upon the release of Overwatch 2. It was replaced by Combat Medic Ziegler skin. You could get the skin if you played 27 matches in every game mode.

Nano Cola D.Va
The Nano Cola D.Va skin is the main highlight of the cinematic short Shooting Star from the first Overwatch game. The animated short featured this skin of D.Va's accompanied by the release of the map Busan.
The skin showcases a representation of D.Va's backstory as a famous professional gamer, covering her mech and suit with the brand of Nano Cola. Although it looks like redesigns of her default skin, the skin didn't also make it on D.Va's list of skins on Overwatch 2.

Flying Ace Winston
The Flying Ace Winston skin will make any monkey main heart explode because of how beautiful this skin is. The skin showcases an aviator aesthetic with London Spitfire's color schemes, an esport team of Overwatch.
Unfortunately, The Flying Ace skin is a limited-edition skin that you can only get in the Overwatch League event back in 2018. Players needed to pay 200 Overwatch League Tokens to get this skin.

Pink Mercy

The Pink Mercy is a collaborative project of Overwatch and the Breast Cancer Research Foundation in celebration of Breast Cancer awareness month. In this skin, Mercy pulled a very cutesy twin pigtail that matches her pink ribbons and wings.
Pink Mercy is perfect for players that love a charming take on the hero they main. But unfortunately, this is a charity skin which concluded last May 2018.
Illidan Genji
One of the rarest skins of all Overwatch, the Illidan Genji is a rare skin available only for players that attended Blizzcon 2019. The Illidan Genji skin has a "World of Warcraft" inspired look where Genji dons glowing sinister eyes, horns, and runic tattoos.
Unfortunately, according to Battle.net's support page, players can no longer acquire the Illidan Genji skin. It is an exclusive award to those who participate in Blizzcon 2019. In addition, there is no information on how to get this skin in the future.

Tyrande Symmetra
Aside from the Illidan Genji skin, the Tyrande Symmetra also received a "World of Warcraft" treatment. In this skin, Symmetra slayed the night elf look with green hair and a couple of gemstones around her clothes.
Just like the Genji skin, the Tyrande Symmetra is not acquirable today. Most players received the skin by purchasing a ticket for the Blizzcon 2019, sadly already passed.

Blizzcon Bastion
As for the celebration of Blizzcon 2016, Blizzard released two skins for those who attended or bought virtual tickets for the said event. Blizzcon 2016 features skins such as the Blizzcon Winston and Bastion skins. The skin highlights the Blizzard's trademark color scheme incorporated with the hero's physical features.
However, the skin is no longer available, as this skin is already vaulted and exclusively awarded to those who went to Blizzcon 2016. But if you bought the tickets before, you're lucky to have this.

Kerrigan Widowmaker
Widowmaker is one of the deadliest heroes on Overwatch 2, her skills with a sniper are a force to be reckoned with. As such, her looks match her sinister atmosphere, and so is her skin in the game. Widowmaker's skin lines are all on point with her personality and charisma.
However, there is one missing skin on her skin lines that are far more different from her usual ones: Kerrigan Widowmaker. Instead of having blueish-hue skin and hair, she has much paler skin and brown hair. Aside from that, the skin is only obtainable if you logged in to your Overwatch account from March 6th to April 3rd of 2018.

Reunion Baptiste
Reunion Baptiste is a skin you can get by playing all the Baptiste's Reunion challenges in the first Overwatch game. The Reunion Baptiste is the main star of the game's short "What You Left Behind."
Thanks to his helmet, the Reunion Baptiste has a very sinister look despite its white/cyan color scheme and cross sign. Sadly, this one is only exclusive to those who finished their challenge when it was released in Overwatch, and this is no longer available in the market.