The Best VPN for Gaming [No Region Restriction & Low Ping]
If you want to get rid of region restrictions and want a better gaming experience with lower pings, we have listed the best VPNs for You.
High ping and regional restrictions in games have bothered us all at various times. We all likely pay high fees for internet connection speeds in order to play competitive games fairly. We are still unable to achieve the desired results, though. Similarly, due to where we live, there might be limitations on which games we can access. It goes without saying that if you do not have a good VPN server app, playing the game throughout different countries may cause issues that annoy you.
We made the decision to test the best VPN for gaming platforms for you. We had the opportunity to analyze and test all the gaming VPN services in our list one by one. If you're ready now, let's get started and take a quick look at our best gaming VPN list.

ExpressVPN Gaming
In the first analysis of our best VPN for gaming list, we checked ExpressVPN. The refund was the first thing we noticed when we entered their website. We quickly bought a membership for a month and then we began our tests. Well, first of all, we cannot say that ExpressVPN is remarkably inexpensive. You must pay $12.95 if you want to purchase for one month. Even if you pay yearly, a 35% discount brings your monthly payment to $8.32.
To analyse Express VPN's features, we made a one-month purchase. After purchasing, we saw that the application can be used on all platforms such as Windows, Mac, Linux, Android and IOS, especially web browsers.
We downloaded the Windows file that was suitable for us and completed the installation process in a few minutes. You may be wondering at this point how many servers Express VPN offers for online gaming. ExpressVpn has 94 VPN servers in total, which you can use for game play and private internet access, based on a quick look. In terms of difficulty, we begin our tests by connecting to an Argentinian VPN router.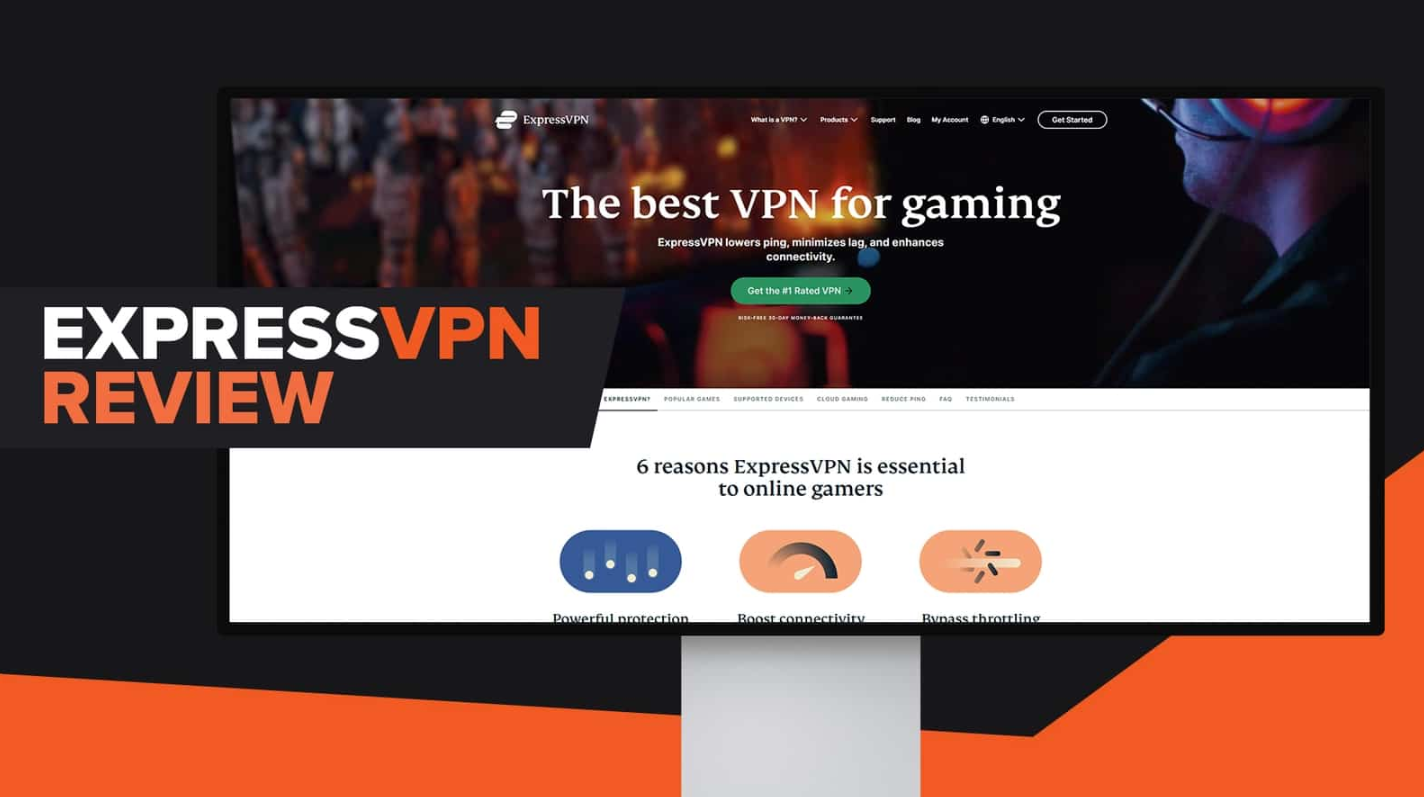 In this direction, the first thing we wonder after VPN connection is about internet speeds. As if we were using our own internet connection, we had no ping issues while playing the games. Additionally, the speed test consistently showed speeds of 40 MB and higher when we added extensions from the web browser.
Because of this, we considered it logical to put Express VPN at the top of our list of the best VPN for gaming. One minor criticism is that ExpressVPN's upload speeds are quite slow. High upload speeds are not something that Express VPN can offer you as support if that's what you're looking for. But since this article is for gaming purposes only, you won't need upload speeds.
Furthermore, we want the VPN we use to be secure because we want private internet access. If you'd like, you can read our other ExpressVPN review for more details.
We experienced no disruptions or slowdowns in internet traffic during our tests. The stable connection allowed us to play any game we wanted without risk. In summary, we strongly advise you to look into Express VPN if you're looking for the fastest gaming vpn and ddos attacks protection. On their website, you can even run a speed test after you've made a purchase. In each test, we experienced fast internet. You have 30 days to contact customer service for a refund if your tests reveal low connection speeds.
Cyberghost VPN
In our opinion, Cyberghost has been the first platform that comes to mind when bringing up gaming VPN. Because of its success in the industry and widespread use among gamers, we chose to give Cyberghost a try. We can say that when we first went to their website to make a purchase, the prices were incredibly low.

We saw that single monthly purchases cost $12.99. For 1, 2, and 3-year purchases, your maximum monthly payment could be as little as $2.29. To be completely honest, we believe it to be the best gaming VPN at the lowest prices we have ever seen in the industry.
We read a lot of positive reviews about Cyberghost online and took into account what the community thought. Even so, we are aware that doing our own testing is always the best option. So we quickly buy a Cyberghost membership for a month and download the Windows application. By the way, you can add Cyberghost to your browser as an extension.
To begin, when we first started Cyberghost's application, we were given a list of 8999 different VPN servers from 115 different regions. Given that you can play games by connecting to any location in the world, this was quite unexpected.
When dealing with issues like "isp throttling", Cyberghost can be a good alternative to unreliable Internet service providers when gaming. Because the speed we experienced when testing a random VPN connection ranged from 60 to 90 MB. We tried it in multiple games and the connection speed is very fast. The upload speeds of Cyberghost's VPN services also seem to be quite sufficient for many games.
Finally, with strong simultaneous connections made possible by unlimited bandwidth, we had the chance to test out competitive games like World of Tanks, Team Fortress 2, R6S, PUBG, Mobile Legends CSGO, Dota 2, World of Warcraft, and Valorant. We were very pleased with the low ping rates we experienced on Cyberghost, especially if you are only looking for gaming servers.
You might not get the full effectiveness of Cyberghost on a gaming console like the PS4 or other gaming consoles, though. In accordance with all of these recommendations, we firmly advise using Cyberghost—aside from the console.
NordVPN
In our honest opinion, NordVPN is the next best VPN service that people can use and have a better internet connection. In the year 2022, so many people are knocking on NordVPN's door in their best gaming VPN research. They are really competent in VPN for gaming.

When we first tried NordVPN, we first noticed that the cost of purchasing NordVPN on a monthly basis is very high. Eventually, even though the cost is quite low for yearly purchases, the costs are still high. NordVPN offers its customers a 30-day trial period to test their gaming VPN service, just like the other websites we've listed. If you want, you can get a refund at the end of this period.
After having a quick look at all of these, we decide to buy NordVPN and download it to our computer. As a premium gaming VPN server, we have seen that we can connect to 5579 servers across 59 nations. When we chose one at random and tested the gaming VPN features, we discovered a very high internet speed. In terms of ping rates, we were unable to achieve the same efficiency.
Ping rates on NordVPN were frequently higher than 100. This really bothered us. Apart from this, it offers the fastest simultaneous connections in the industry because download speeds are 90 MB and higher.
Because of this, NordVPN can easily support secure virtual LAN connections even though it cannot provide a smooth online gaming experience. If the restrictions by your internet service provider are overwhelming you, you might want to give NordVPN a try, especially if you are a Roblox gamer.
ProtonVPN
We visited ProtonVPN, which we are aware is very well-liked among gamers, in our search for the best VPN for gaming. When we first enter, ProtonVPN's website, we saw that the prices are extremely convenient. You can also use Proton as a free gaming VPN. As you are aware, however, free VPN can have extremely high pings and slow internet speeds.

Skipping all of this, we want to use ProtonVPN's €4.99 monthly package to test their service. We look at a VPN server list of more than 1700 servers from a total of more than 60 countries in the first part of our test. There are many countries and regions on the list. At this point, connecting to countries like the United Kingdom, the USA, and Austria is more advantageous if you're looking for unlimited simultaneous connections.
Because, except these countries, when we tested Proton as a VPN for gaming, we always experienced high pings. All VPNs from ProtonVPN will work efficiently if you plan to use streaming services and the download speeds are important for you.
We are testing it out by playing Valorant because we want to see how it works as a gaming VPN. And when we chose Amsterdam in ProtonVPN to enter the game, we experienced pings of less than 50 MS. The game ran quite smoothly, and we can say that it performed sufficiently for multiplayer games.
When we selected USA, though, the ping rate was over 100, which was extremely annoying. The reason why we can't show ProtonVPN in the first place as best VPN's for gaming is that it can only offer low ping rates ​​in certain regions. Out of 1700 regions, only 10-15 are showing low ping, which is obviously not very good.
You have a 30-day right to a refund if you want to test ProtonVPN in your search for a VPN for gaming. Our experience has shown that it can provide excellent service in certain regions for a cheap price. Likewise, it can help with providing access geo blocked games. Still, it's up to you to decide in the end. If you don't like the 30-day trial version, return it.
PureVPN
As a result of our testing and experience, PureVPN, which has more than 6500 VPN servers, is at the bottom of our list of the best VPN for gaming. When we did a little research on the internet, we saw that PureVPN got 4.7 points with thousands of feedback on Trustpilot. But we are aware of how deceptive such feedback can be. That's why we decided to buy PureVPN and test it out for ourselves before making a final decision.

First of all, the details that caught our attention in PureVPN were online security, more than 6,500 servers, service in 96 countries, and they claimed to be reliable gaming VPN just like other VPN providers.
Low ping gaming VPNs are essential when when you want to play games. For a player, information about ddos attacks and a far-off game server can be crucial. Similarly, choosing the best VPN is crucial for achieving more competitive ping rates for online games. Considering all these criteria, we purchased PureVPN by paying $10.95 for a month.
For gaming online, we connected to a PureVPN server located in Canada. As a result of this connection's slowness, we noticed that our ping in the game was higher than 100. We switched our VPN to the USA and tried to play again because the slowness was really annoying. And this time, the ping value was between 100 and 120.
Our gaming experience has been negatively impacted by the high ping rates. We wanted to put it through one more test by selecting France from Europe. At this point, we saw an MS rate between 30 and 40. The same low ping rates appeared when we tested other European countries such as Poland, Germany, and the Netherlands. You can read the PureVPN review for further details.
Even though some regions had high ping rates, PureVPN offered unlimited bandwidth speed on all of its VPN servers. For instance, when we did a speed test from the USA, we observed rates of 80 MB and higher, while upload speeds were observed to be 25 MB. We think that these rates are quite high.
If you have more questions and If you are curious about the answer to the question , you can take a look at our review.
Consequently, if you are looking for powerful gaming VPNs, PureVPN is not as good as the other members of our list. However, due to its slightly cheaper price and performance in certain regions, we can recommend PureVPN as your split tunneling tool.